After working with a very helpful Microsoft Support manager, here are some updated suggestions to the problems identified in the first version of this article.
Getting Mail to Leave SBS
The support manager reminded me that Office 365 offers an email alias in the mydomain.onmicrosoft.com domain. If my primary email is myuser@mydomain.com, Office 365 lets me use myuser@mydomain.onmicrosoft.com as well. I had removed that alias but was able to re-add it through the Online Exchange mailbox configuration screen, under E-Mail Options.
So the solution is still to send the email to an account outside your domain, but you can use your custom subdomain on Office 365: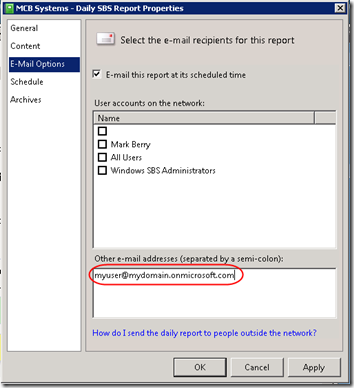 Getting Outlook to Autodiscover Office 365
While editing the Service Connection Point in Active Directory Sites and Services does work, it's probably not the "approved" way to do things.
The support manager recommended that I instead use the Exchange Management Shell to entirely remove the Autodiscover Virtual Directory using Remove-AutodiscoverVirtualDirectory. Here's how I did that:
1. Open an elevated command prompt and back up the IIS configuration (explained here):
%windir%\system32\inetsrv\appcmd.exe add backup "Before Removing Autodiscover"
2. Open an elevated Exchange Management Shell and retrieve the current autodiscover virtual directory:
Get-AutodiscoverVirtualDirectory | fl Name, Server, InternalUrl, ExternalUrl, Identity
Save the results to a text file in case you need them to re-set the virtual directory later (see Schyler Jones' comment below on December 2, 2015). Copy the Identity value to the clipboard.
3. In the Exchange Management Shell, remove the autodiscover virtual directory:
Remove-AutodiscoverVirtualDirectory –Identity "<identity value retrieved above>"
You will have to confirm by typing a "Y".
4. Check that the autodiscover virtual directory is gone:
Get-AutodiscoverVirtualDirectory | fl Name, Server, InternalUrl, Identity
This should now return nothing.
5. Now, with Outlook running on a desktop, hold the Ctrl button, right-click on the Outlook icon in the system tray, and select Test E-mail AutoConfiguration. Enter your email address and password and click the Test button. The results should come from the Office 365 server.