I've been using Outlook 2010 under Window 7 for a few months, connected to Exchange 2007 SP3 running under SBS 2008. I have three Exchange accounts set up in my Outlook profile. Suddenly this week I couldn't get email: I got one credential prompt after another, no matter how many times I entered the password.
I thought maybe the credential store had gotten messed up. I went to Control Panel > User Accounts > Credential Manager and deleted the saved credentials corresponding to the email accounts. Didn't help.
Tried a change to IIS settings as suggested here. Didn't help.
I set up an Outlook test profile with only one account. Still prompted me repeatedly for a password, in fact for a different account than the one in the new profile. Huh?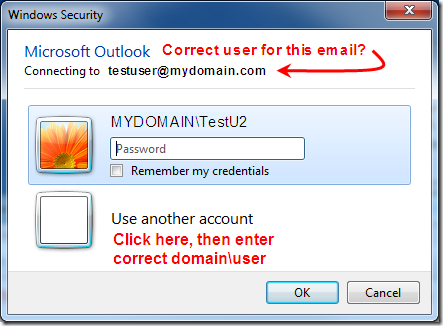 Finally I realized that Outlook was trying to use the wrong credentials to connect to the account. For example, my testuser@mydomain.com email requires a logon as MYDOMAIN\TestU, but it was trying to log on using the credentials from another email account, e.g. MYDOMAIN\TestU2. In other words, it no longer knew which email account was associated wiht which domain logon. All I had to do was click on Use another account at the credential prompt, then enter the correct domain account for the email address shown at the top of the credential prompt. Once I'd done that for all of my accounts, Outlook once again is connecting to Exchange and sending and receiving email.