Here are a couple gotchas that I discovered as I migrated Exchange 2007 under SBS 2008 to Office 365, and how I got around them.
Update August 26, 2011 There is now an updated version of this article:
Using Office 365 in an SBS 2008 Environment, Take 2
Getting Mail to Leave SBS
As long as Exchange is running on your SBS server, it will greedily grab any outbound mail sent to your domain, without any respect for public MX records. Name resolution apparently goes through Active Directory, since there is no MX record in the internal DNS. The simplest solution? Send the email to an account outside your domain, then configure that account to forward the mail back to your (now cloud-based) main account. For the SBS daily report, you can configure this on the SBS Reports tab: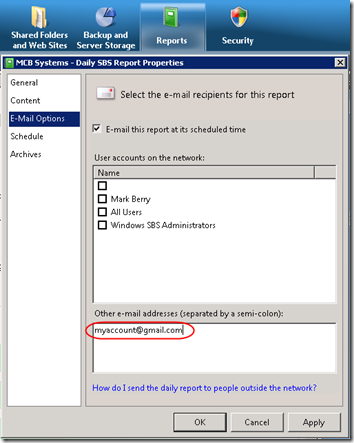 Getting Outlook to Autodiscover Office 365
This one turned out to be trickier. Even after configuring the public CNAME for autodiscover.mydomain.com to point to Office 365, when I tried to add an account to Outlook, it kept connecting to Exchange the SBS server. Office 365 requires the use of autodiscover, so manual configuration is not an option. How do I get Outlook to discover my new Office 365 account?
This article gave me the clue I needed: in a domain environment, Outlook looks first to Active Directory to find the autodiscover location. So with some trepidation, I modified the autodiscover attribute in Active Directory. So far it seems to be working—Outlook now uses the autodiscover.mydomain.com and correctly connects to Office 365. Here's what I did to make that happen.
1. In Active Directory Sites and Services, click on the fist line (Active Directory Sites and Services), then select View > Show Services Node from the menu.
2. Under Services, navigate to the Autodiscover node: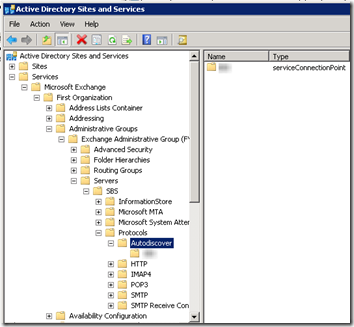 3. Right-click on your server name and select Properties. On the Attributes tab, find the serviceBindingInformation attribute. You will see that it points to remote.mydomain.com, which SBS's internal DNS resolves to the server's local IP address: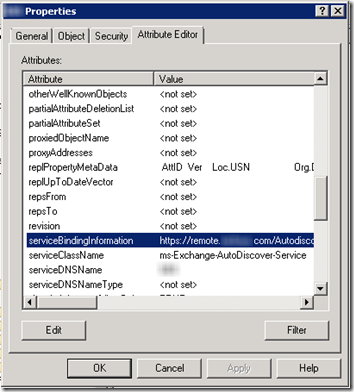 4. Change the serviceBindingInformation to point to http://autodiscover.mydomain.com: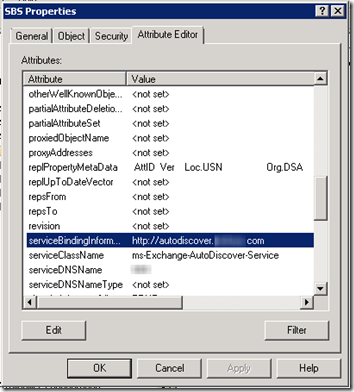 Now when you add an account in Outlook 2010, it should use the information returned by autodiscover.mydomain.com.