Mark Berry February 16, 2016
Once a year, I test restoring a server to a desktop. The server is backed up with standard Windows Backup. The idea is to confirm that if the server went down, I could quickly restore to one of the customer's desktops as a temporary solution while the server is repaired or replaced. This is also an interesting test of how well Windows Backup handles restoring to different hardware. Previous tests are blogged in 2011, 2012, 2013, 2014, and 2015.
More...
Mark Berry September 27, 2014
One of the risks of activating encryption on a hard drive is that you'll lose the password. It turns out to be pretty simple to save and view BitLocker passwords in Active Directory.
More...
Mark Berry July 14, 2014
Here's how I set up a new Lenovo TS140 Server with eDrive enabled on a Samsung 840 EVO SSD. eDrive will be managed by BitLocker under Server 2012 R2.
More...
Mark Berry March 15, 2014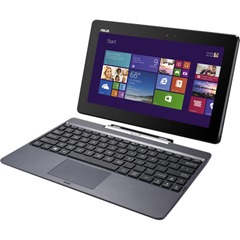 My new Asus Transformer Book T100 running Windows 8.1 (Standard, not Pro), authenticating with my Microsoft account, has Device Encryption (BitLocker) enabled. Nice! Check out these articles on HowToGeek and Ars Technica.
Recovery
If you need to access the recovery key stored in your Microsoft account, go here: https://onedrive.live.com/recoverykey.
More...
Mark Berry January 24, 2014
There are several differences since the last time I did a disaster recovery restore test. The server is now a Lenovo ThinkServer TS140 running Windows Server 2012 R2 Essentials on "bare metal," i.e. no Hyper-V is involved. The target machine is a ThinkCentre M93p.
Server 2012 backups are done using the standard Windows Backup program and are saved on an internal "staging" drive. The WindowsImageBackup folder on that drive is copied daily to an external backup drive, which is the drive we'll be restoring from. This external drive has a USB 3 interface, as does the M93p desktop, so I'm hoping the data transfer will be faster.
More...
Mark Berry April 6, 2013
This is the third in the series of almost annual articles about my experiences testing a Hyper-V restore. I've done this successfully in 2011 and 2012. Why repeat? To make sure disaster recovery is still possible, and to try a new approach.
More...
Mark Berry March 12, 2012
In January 2011, I wrote about my experience restoring a Hyper-V Server to an Optiplex 960. That article is exhaustive (and exhausting). I've done the same test again and wanted to write up a somewhat shorter procedure. If you get stuck in this procedure, refer to the original article for details.
More...
Mark Berry January 7, 2011
Recently I upgraded a small server to run Windows Server 2008 R2 as a Hyper-V host, with Server 2008 R2 as a guest as well. I've read that Windows Server Backup can restore to dissimilar hardware. That could be especially helpful in a small environment where no other servers are available. Can I restore the entire Server 2008 host and guest to an Optiplex 960 desktop? How long will it take?
More...
Mark Berry August 11, 2010
Today I did a disaster recovery test on my Windows Server 2008 R2 Hyper-V host. I used Windows Backup to do a bare metal restore of only the system volume. As expected, after the restore, the system volume was no longer encrypted. But even after re-encrypting the system volume, I was unable to set the data volumes to automatically unlock. Instead, it displayed "Data error (cyclic redundancy check)."
More...
Mark Berry August 3, 2010
I've been using TrueCrypt for a while, and have recently switched to BitLocker. My main purpose is to encrypt backup disks that are taken off site, though I plan to use BitLocker for an internal data volume as well.
Recently a colleague noticed that a $495 program called Passware Kit Enterprise is claiming "Instant decryption of BitLocker To Go USB disks." In fact they claim to be able to decrypt BitLocker and TrueCrypt disks, as well as PGP volumes. Really? How does that work? Are my efforts to encrypt sensitive data useless?
More...