MCB GoldLink to 3CX links your GoldMine CRM software with your 3CX phone system.

You can jump to the free download now.
Watch this short video for a quick overview of how GoldLink works:
Features
GoldLink to 3CX offers several key features to streamline your phone calls.
Auto-Dial Outbound Calls
Want to call a number in GoldMine? Just right-click and choose Dial Phone. Your desk phone rings immediately and you hear hold music while 3CX completes the call.
Find GoldMine Records Using CallerID
Receiving a call from someone already in GoldMine? Every time you receive a call, GoldLink searches GoldMine's primary contacts for a record matching the CallerID. You have the option of seeing the record in the current GoldMine window or in a new window.
If the CallerID is not found in a primary contact, GoldLink will optionally search for the CallerID in Additional Contacts.
Note Your 3CX system must provide the external Caller ID to the desktop receiving the call by using direct inward dial (DID) numbers, blind transfers, or call parking. See this article for details.
Add GoldMine History
Whether making or receiving calls, it's important to keep a record. GoldLink makes it easy, automatically adding a GoldMine history record to the proper contact. GoldLink optionally opens the Complete a Call dialog so you can add notes while  you talk on the phone.
Link to 3CX Recordings
If you're using the 3CX feature to record all your phone calls, you can set up GoldLink to add a link to the recording in the corresponding call history record. This allows you to quickly find and review call recordings associated with GoldMine history. (Of course, it's up to you to make sure call recording is allowed.)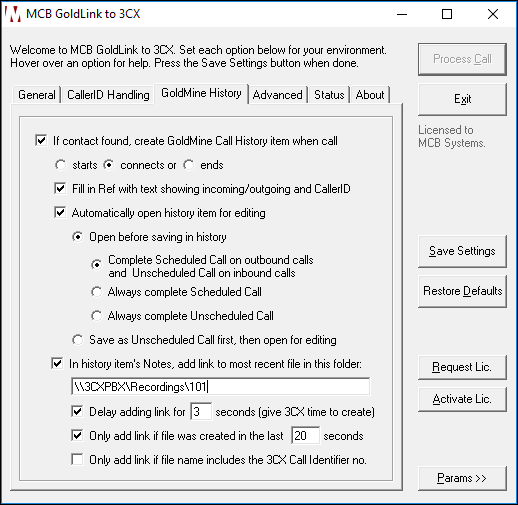 System Requirements
MCB GoldLink to 3CX has been tested under Windows 7 SP1, Windows 8.1, and Windows 10.
GoldLink has been tested with GoldMine 6.7, 9, 2013.1, 2015.2, 2016.1, 2017.1, 2018.1, 2019.1, 2020.1, and 2021.1. Searching for CallerID in Additional Contacts requires that GoldMine is hosted on a Microsoft SQL database with a custom index.
GoldLink requires 3CX version 16 or 18, Pro Edition. (CRM integration is considered a Pro feature.) MCB Systems can help you set up 3CX, or you can work with a local 3CX reseller.
Important GoldLink relies on a "legacy" 3CXPhone client to work. 3CX has updated this client for version 18, so it looks like GoldLink will continue to be compatible for the foreseeable future. See the history of 3CXPhone news here.
GoldLink has been tested with 10-digit North American phone numbers. Under certain circumstances, GoldLink may work with variable-length numbers in other parts of the world—contact MCB Systems for details.
While we can't guarantee compatibility with your program versions and environment, we offer a 30-day free trial so you can try it for yourself!
Sales and Licensing
We want you to be satisfied with MCB GoldLink to 3CX, so we let you try before you buy. The trial version is fully-featured and runs for 30 days. Once you're sure it works for you, contact MCB Systems to purchase your full license. Software licenses are non-refundable. You need one copy of MCB GoldLink for each computer where you want to use GoldMine with 3CX.
Support
Setting up MCB GoldLink to 3CX is fairly straightforward. A User's Guide is included that explains all options. If you should need support configuring MCB GoldLink to 3CX, we're happy to answer questions by email during your trial and for the first 30 days after your purchase. After that, hourly consulting charges will apply.
Pricing
MCB GoldLink to 3CX is available now for USD $150 per computer. Quantity discounts are available for 10 or more licenses. Payment can be made by PayPal, check, or wire transfer. Contact MCB Systems to let us know how many copies you need.
Download
The free 30-day trial is fully functional. Click the link below to download today!
Download MCB GoldLink to 3CX Software
You can also view these documents:
MCB GoldLink to 3CX User's Guide
MCB GoldLink to 3CX Release Notes