Strange problem this morning. After migrating to a new server and deploying two printers with Print Management, a non-admin user was only seeing one of the two printers on a Win10 client machine.
I spent literally hours fiddling with registry entries, trying to copy printer entries from a working user to a non-working user. I even deleted the user's profile and created a new profile. Still the user only got one of two printers deployed by group policy.
Logged on as the user, I decided to try to map directly to the shared printer on the server, but no printers were found in the directory. Huh?
Back on the server, reviewing the printer setup in Print Management, on the Sharing tab, not only was List in the directory not checked, Share this printer was not checked. Doh!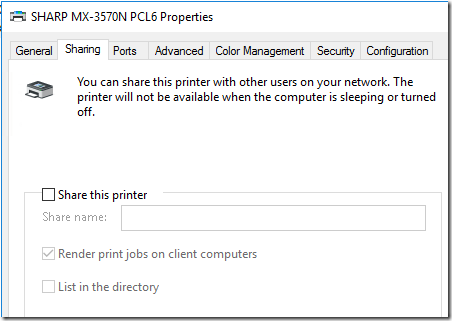 After checking both of those, I did a gpupdate /force on the client, logged off and on, and the missing printer appeared.
It's interesting that an admin user can see deployed printers on client computers even if the printer isn't shared. I wonder if printing would have worked.
A Related Issue
Even after removing printers from the old server from group policy, some users still see printers shared from the old server. Maybe the group policy deletion didn't go through. Hopefully un-sharing the printers from the old server (currently still online) will remove them from the users' lists of printers.