This week, when I tried to open a Microsoft support ticket at https://support.microsoft.com/en-us/assistedsupportproducts using Chrome 71, I got an Access Denied error:

I finally called in to open a case.
Then while working on a case, I needed to open https://support.microsoft.com/help to allow Microsoft support to start a remote session. Again, Access Denied:
This time, I thought to try it in Internet Explorer, which worked fine.
I decided to check for Microsoft cookies in Chrome. From chrome://settings/siteData, when I searched for "microsoft", there were cookies and other data from 47 Microsoft sites: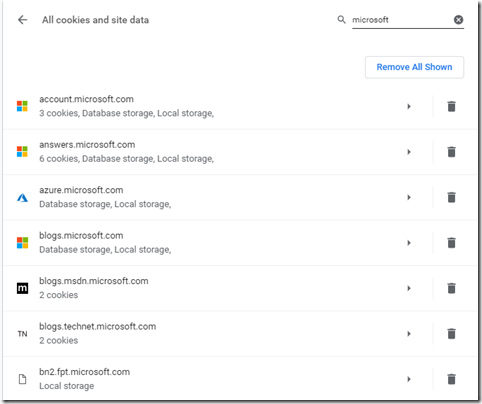 I clicked Remove All Shown. After that, I was again able to access Microsoft support sites from Chrome: