I want to raise awareness about a TurboTax bug that may affect your ability to defend yourself in the case of an IRS audit.
I use the TurboTax Supporting Details feature extensively to add information about where my numbers come from. But starting with tax year 2011, TurboTax does not print many supporting details. If you are expecting those details to be available when the IRS comes knocking, you'll be in for a surprise.
For example, on Schedule C's Car and Truck Expense Worksheet, you have to be careful how you report car taxes—parts go on line 19f as registration fees, and another part goes on line 27d as property tax. So I add notes to the Supporting Details to clarify where each number comes from. For example, here's my 2012 Detail for line 27d: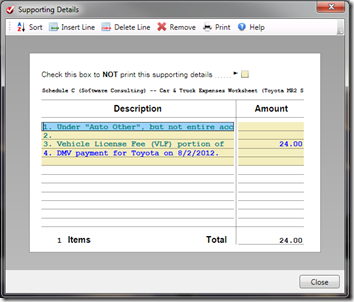 From 1995 through 2010, if you printed your TurboTax return with all details, you would get a block of Courier text like this at the end of your return: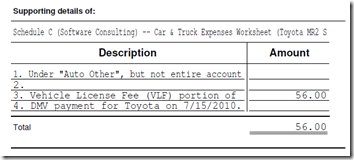 It's not perfect—it cuts off the line number that it is reference to, for example—but at least it is there.
Starting in 2011, Supporting Details print in a format that is arguably more readable, for example:

The problem is, many of the Supporting Details do not print at all. Comparing my 2010 and 2011 returns, I found that the 2011 return was missing 24 details, including the car tax breakdown above as well as critical details about how I convert accrual to cash basis. The bug continues into 2012.
Known Bug
Intuit acknowledged this a a bug in December 2012, though it's not clear if they think it started with tax year 2011 or 2012:
Supporting details are not printing with the return (SLN54197)
Their workaround? Print a screen shot of each of your supporting details. Really? I'm supposed to open each line of my return, check whether there are Supporting Details, and if so, print that on a separate sheet of paper? This is not an acceptable solution.
Technical Support Fails
My efforts to get this addressed through Intuit Support failed miserably. After duplicating the issue, they escalated the case, promised and failed to call back, told me the case was discarded, told me the program is working as designed, told me the SLN is the bug number but that they are not working on it. More details in this thread.
Fix Needed
I filed taxes long ago but I keep updating TurboTax 2011 and 2012, hoping that I will finally be able to print out my returns for archiving with all Supporting Details. However, as of July 2013, there is still no fix. This worked fine for 16 years. How hard can it be to get it working again?