Windows Server 2012 Essentials is raising the following warning every 30 minutes:
Warning Alert: CleanupOverdue is raised at SVR2012E. <Title> A scheduled cleanup task for Client Computer Backup did not finish successfully. <Description> A scheduled cleanup task for Client Computer Backup did not succeed on 3/9/2013 11:59:02 PM. The task has not succeeded in 15 days.. <AdditionalInfo> .
In Task Scheduler, under Task Scheduler Library > Microsoft > Windows > Windows Server, there is a weekly scheduled task named "Cleanup." According to its description, "This task applies the backup retention policy to clean up the client computer backup database." Sounds promising, but according to its History tab, it looks like it has never run: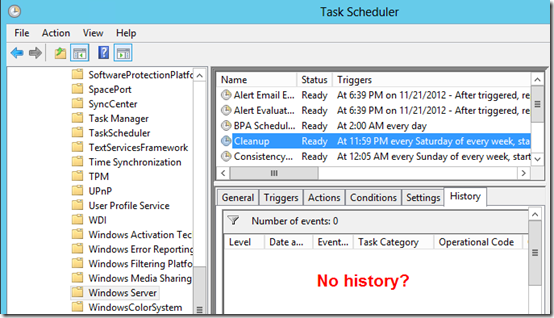 Other tasks in the same section have history entries, so task scheduler history is enabled. Checking the Event Viewer, the TaskScheduler > Operational log goes back 9 days, so it should definitely include a weekly task.
Run Manually
I decided to try running the task manually. It completed in about 7 minutes with Exit Code 0, and wrote the history as expected: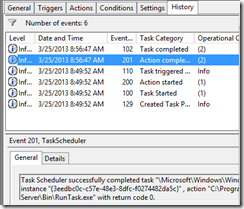 What Happened?
I don't know. The original message said that the cleanup failed on 3/9 11:59pm. But no issues were reported in my 3/10 server report.
I'll just have to check this next week to see if the scheduled task is running as scheduled.
Update June 10, 2013
Still no clear understanding of what happened here. Possibly something about a task trigger not being registered properly. There are two easy workarounds. Open the Properties of the missed task. On the Triggers tab, either:
Change the Start date of the existing trigger. You can leave the time as is. Suggested in a Microsoft TechNet forum thread.
Disable or delete the failing trigger. Create a new weekly trigger.
Remember to do this both both weekly tasks, Cleanup and ConsistencyChecker. The 2012 Essentials Health Report only complains about the missing Cleanup job, but ConsistencyChecker is supposed to run weekly as well.