Yealink phones can have basic BLF functionality in conjuction with a Grandstream UCM server. In this case, I'm using a Yealink T41P and a Grandstream UCM6102.
We're not using the BLF List functionality here, just simple dialog BLF where the phones communicate directly with each other.
In this case, Betty on x.101 wants to see the busy status of Joe on x.102 and Fiona on x.103. On the Dsskey tab, set the Value to the subscribed extension and the Extension to "**", the Asterisk code for call pickup:

Then under Account > Advanced, near the bottom, set Out Dialog BLF to Enabled: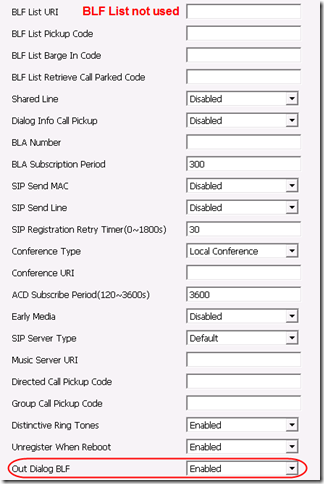 According to the Administrator Guide, Out Dialog BLF "Enables or disables the IP phone to handle NOTIFY messages out of the BLF dialog…."
Now Betty can see when Joe or Fiona are on the phone (the LED changes from green to red) and she can pick up a ringing (blinking) extension. She can also use the BLF key to dial the extension. Note that if she uses the BLF key to transfer a call, it is processed as a blind transfer. For an assisted transfer, it seems she still has to dial the extension.