I upgraded from Windows 7 Ultimate to Windows 10 Pro a couple weeks ago. I've had ongoing issues with briefly losing connection to my local network. Updating the network card and turning off power management wasn't enough.
Eventually I noticed that I was getting hundreds of StorDiag errors. They were clumped in groups of about 11 every 10 seconds. Any time I see that many errors at once, I try to track it down because I know that can impact performance.
In the Event Viewer, these errors are buried under Applications and Services Logs > Microsoft > Windows > StorDiag > Microsoft-Windows-Storage-ClassPnP/Operational. I was getting two errors repeatedly:
504 Completing a failed IOCTL request.
507 Completing a failed non-ReadWrite SCSI SRB request
It's important to look at the Details of the error. This pointed to a Generic Ultra-HS-SD/MMC device: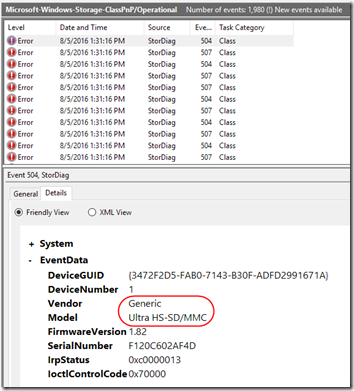 A little Googling confirms that this is an SD card reader. In my case it's built in to my Dell U2410 monitor. Here it is in Device Manager: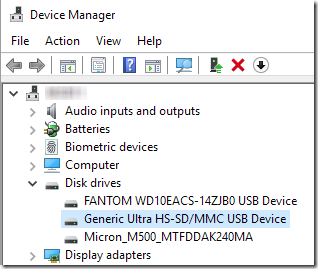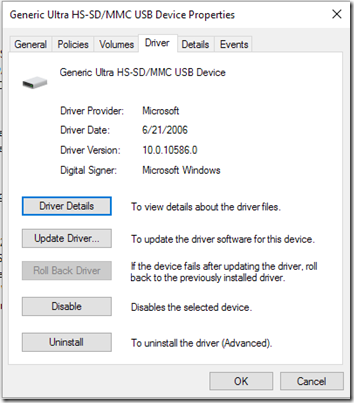 It looks like Windows tried to migrate the device during the upgrade to Windows 10 on July 17: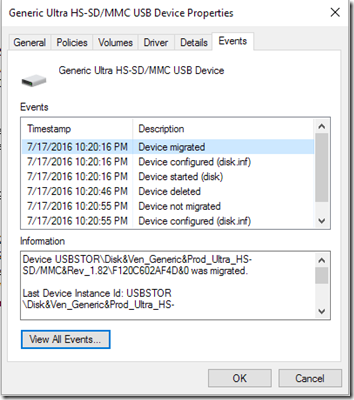 I tried updating its driver but it says the latest is already installed: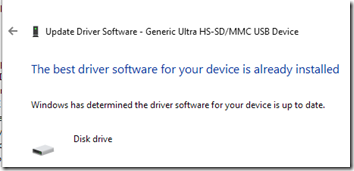 There are several reports online about SD card readers that stopped working in Windows 10. As suggested in this article, I tried the Windows Troubleshooter for hardware, and I tried changing the drive letter of the device. Neither one helped. I did not have access to the original installer files (I believe they are built in to Windows), so I couldn't try installing the driver in compatibility mode.
At this point I decided to just cut my losses and unplug the SD card reader from the computer. That meant unplugging the Dell monitor's USB connection. I had to use another USB hub for other devices that had been using the monitor as a hub.
In any case, as soon the Dell monitor with its SD card reader was unplugged, the StorDiag errors stopped. We'll see if that also helps my intermittent network connectivity issues.
Update August 2, 2019
I'd really like to be able to use the hub built in to the Dell U2410 monitor, so I decided to try another solution:  In Device Manger, under Disk drives, I disabled the "Generic Ultra HS-SD/MMC USB Device" . That stopped the errors! Now I can use the USB hub, just not the SD card reader (which I don't need).