If you assist nonprofits with their I.T. needs, you may have noticed a flurry of announcements made in January about Microsoft's plans to donate "$1 billion of cloud computing resources over the next 3 years to serve the public good" (from this official blog post).
I've been watching the Microsoft philanthropies home page for a while. Regarding Azure, it only says "coming soon":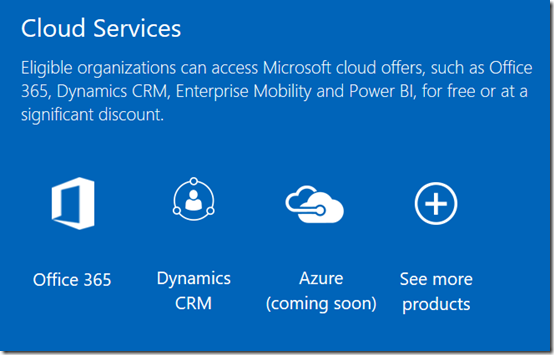 Now here's the trick:  ignore the "coming soon." Scroll to the bottom of that page and choose Get Started:
Follow the instructions to get a TechSoup Validation Token. If you've already validated your nonprofit status with TechSoup, this is simply a matter of visiting this page, choosing your country and language, and signing in with your TechSoup member ID. Copy a current validation token (create one first if needed), then back on the Microsoft site, enter the token it on the Sign In page.
A page comes back listing your available benefits. At the bottom of the page, I found Azure available as a benefit with a $5000 annual credit for this U.S.-based nonprofit. I've already signed up on their behalf, so now it shows the benefit as active:

Signing up took only a few minutes, including getting back the welcome email. After that, you create a new Azure account from this link. A credit card is required in case you go past your $5000 limit. The Azure account now shows the $5000 balance:

A Microsoft representative explained that Azure for Nonprofits started its "soft launch" on August 3 and that it will roll out more broadly in September. Although the credit expires after one year, he said they plan to do an "annualized refresh," i.e. this is a perpetual donation, not just a first-year-free promotion.
You can do a lot with $416 a month in Azure credits. That's more than enough to run a couple servers in the cloud and still have plenty left over to pay for storage, backups, etc. Thanks, Microsoft, for helping support nonprofits!
Update 3 October 3 2016
An astute reader submitted this September 26 blog post by Mary Snapp, Corporate Vice President and Head of Microsoft Philanthropies, announcing the broad availability of Azure for Nonprofits:
Bringing more cloud power to serve nonprofits
Update 23 November 2018 – Offer Now 50 Active Directory + $3500 Other Azure Services
As Rick points out in a comment today, the offer has changed:  up to 50 seats of Active  Directory Premium (Enterprise Mobility + Security E3), valued at $1500, plus $3500 in other Azure services. See https://www.microsoft.com/en-us/nonprofits/azure.