If you have a Windows 10 machine connected to an Essentials 2012 R2 server and you apply the Windows 10 November update (1511), all Essentials connections will be lost.
The machine is still joined to the domain, but the Essentials connection is completely removed.
Essentials Tray app:  gone.
Backups:  stopped.
DNS management, i.e. pointing the DNS to the server when on the LAN:  stopped. The network is no longer detected as domain-joined, so the firewall switches to Public rules.
Remote Web Access:  gone.
The five Server Essentials services:

All removed:

All of this happens without any confirmation or warning.
If you search for the Essentials files, you'll find them under C:\Windows.old\WINDOWS\System32\Essentials.
It is possible to re-install the connector on the updated machine, but seriously? Every time there is a significant Windows 10 update, we have to re-install the connector on each client machine? At least it seems I can install directly from the server now, although it still says it only works on Windows 7 and 8: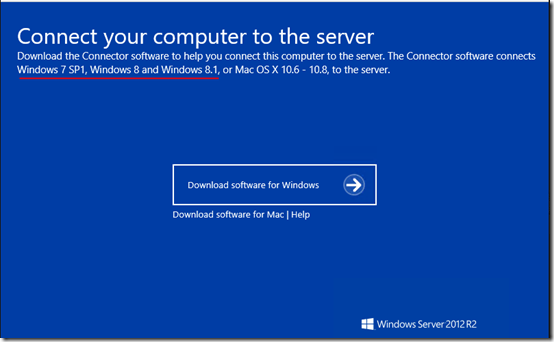 After running the download, I had to restart the computer and go through the entire connection wizard (type my admin name and password, "Set up this computer for myself," confirm computer description, "Yes, wake up this computer … to back it up,"). At the end it says, "You will be logged off" but I was not logged off.
The Launchpad says there are no backups: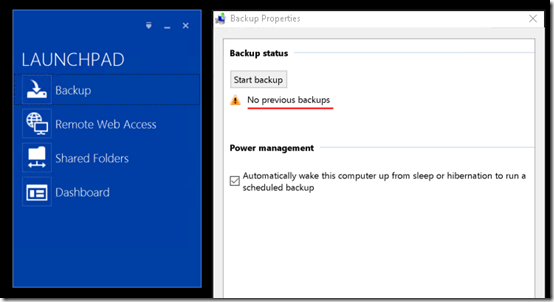 Fortunately, the server dashboard shows that the device is back online and that previous backups are available.
Windows 10:  Not Ready for Business
Ironically, the November update was supposed to be the one that made Windows 10 ready for use in organizations. Well if you're a small business running an Essentials 2012 R2 server, be prepared to re-install the connector on each machine you update.
Update January 22, 2016
Susan Bradley put me and another user in touch with the Microsoft product group regarding this issue. Schumann GE has just published the following article that confirms the issue and promises a fix ASAP:
http://blogs.technet.com/b/sbs/archive/2016/01/22/windows-10-feature-upgrade-breaks-client-connector-for-window-server-2012-r2-essentials-windows-server-2012-essentials-and-windows-small-business-server-2011-essentials.aspx
If you are affected by this issue, keep an eye on that article for updates. For other official Essentials news, consider subscribing to the SBS blog's RSS feed here:  http://blogs.technet.com/b/sbs/rss.aspx.
Update November 3, 2016
The SBS blog reported on July 24, 2016 that a fix is available:  Updated inbox component in Windows Server 2012 R2 Essentials for client connector. The fix was included in the July 2016 update rollup for Windows 8.1 and Windows Server 2012 R2.
Based on some of the comments below, some users are still experiencing issues after this fix.
Update November 11, 2016
I've discovered that you need to uninstall and re-install the Essentials Connector before upgrading Windows 10. Details in this article.