Today's suspicious emails supposedly come from LinkedIn. They look authentic, but the links actually take you away to bogus and potentially malicious web sites.
How to tell? Without clicking, hover your mouse over the link. A little popup should show you where the link really points to, i.e. what web site would open if you click on it. If the real link points to a site other than LinkedIn, don't click on it!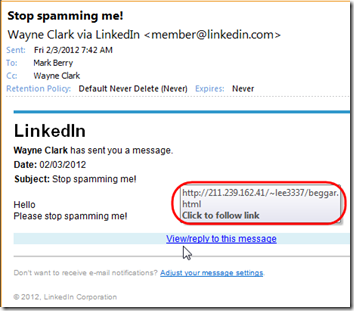 This one's even easier, as it tells you exactly what the link should be. Since actual link does not match the link shown, you know it's bogus: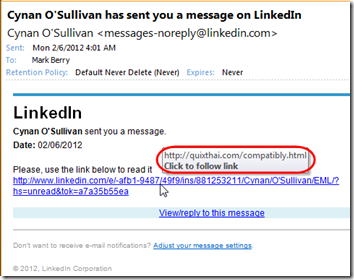 Of course the other clue is that I've never heard of these supposed senders.
I've gotten three of these in the last five days so they must be on a run.
Second Line of Defense:  Updates
Some sites can load a virus on your computer just by browsing the site, so your best defense is to avoid those sites entirely.
However anyone can land on a malicious site. At that point, your next-best defense is to have a computer that is completely up to date:
All Windows updates applied (turn on Automatic Updates).
All Adobe Reader and Flash Player updates applied.
All Java updates applied.
All browser updates applied.
Anti-virus program installed and updated daily.
Most viruses will try to exploit vulnerabilities in one of the above. Even if you land on a malicious site, by keeping everything fully updated, you greatly reduce the chance that a virus will succeed in infecting your computer.