Back in November, I wrote about an airline ticket virus email. Now it's FedEx:  today I received this email supposedly from FedEx with a zip file attachment: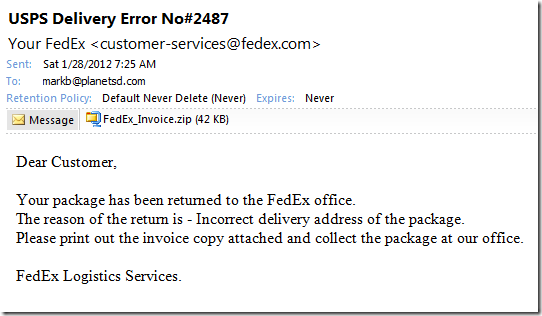 If you open the zip file to see the "invoice," you'll see what looks like a a PDF file:

However if you go to Windows Explorer and uncheck "Hide extensions of known file types," you'll see that it is actually an executable file:

Don't run it! That means don't double-click on it to "open" it. It's got to be a virus.
Another clue:  the subject line refers to USPS but the body refers to FedEx.
This virus bypassed the VIPRE anti-virus on my computer. www.virustotal.com shows that only 2 of 43 engines currently recognize it as a virus.
As usual:  if you don't recognize the sender, or are not expecting the email, don't open the attachment! In fact, I'd say just don't open attachments from anyone unless you personally know the sender (e.g. a friend or colleague) and you are expecting them to send you a file. Big companies are not just not sending email with attachments.