Today I received an email supposedly from American Airlines with an Zip file attachment: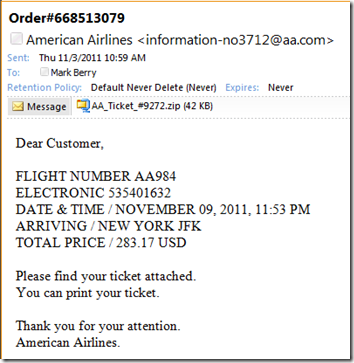 If you open the zip file, you'll see what looks like a Word document:

However if you go to Windows Explorer and uncheck "Hide extensions of known file types," you'll see that it is actually an executable file:

Don't run it! That means don't double-click on it to "open" it. It's got to be a virus.
The scary thing is that this virus was delivered directly to my Outlook inbox. It got past Forefront security on Office 365, and my up-to-date VIPRE anti-virus does not flag it as a virus. When I submitted it to www.virustotal.com, only 1 of 42 engines currently recognized it as a virus.
As usual: if you don't recognize the sender, or are not expecting the email, don't open the attachment!
Update January 16 and 19, 2012: Several people have asked how to remove this virus, the main effect of which is apparently to hide (but not delete) files on your computer. Thanks to the several posters who have offered suggestions. For example, see these comments below:
December 16, 2011 – Susan Green
December 16, 2011 – Michael
January 6, 2012 – Teresa
January 16, 2012 – Shea
January 19, 2012 – Bob
January 19, 2012 – Mark
Use these procedures at your own risk! If you're not comfortable with the procedures and especially if you don't have a good backup of your files, find a professional to help.