As I worked today on recreating a Dell Utility Partition, I encountered this factoid:  Diskpart, when run inside Windows, does not see volumes on OEM partitions.
If you run diskpart under windows and ask for details on the Dell Utility Partition, you will get this message:  "There is no volume associated with this partition":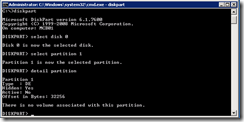 So how can this partition not have a volume? I thought maybe I needed to create one, but efforts to create a volume in the partition with the diskpart CREATE command will fail—that's only for dynamic volumes.
The Secret OEM Volume
A clue is found when you type HELP ASSIGN in diskpart. This note appears:  "In addition, you cannot assign a drive letter to an Original Equipment Manufacturer (OEM) partition unless booted to Windows PE…." Once I saw that, I knew I needed to be working in a WinPE environment.
Sure enough, once I had booted from the Windows Server 2008 R2 installation DVD, pressed Shift-F10 for a command prompt, and run the same diskpart commands, I saw the real story: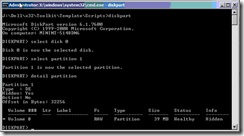 Here the volume is listed, though it is still RAW because it hasn't yet been formatted and loaded with the Dell System Utility files. That's the subject of my next post.