I'm running ESET Remote Administrator (ERA) 3.0.105 as an update mirror on a Win2003 R2 server. There are six NOD32 3.0.684.0 clients that connect to that server (including one client on the server itself). The setup has been working fine for months.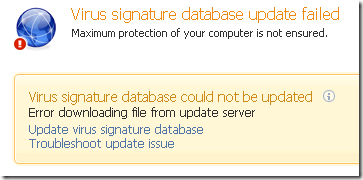 This morning I had alerts that all clients failed to update. When I checked the ERA's Tools > Server Options > Updates tab, I see 4522 is 100% complete. Clicking on Update Now only changes the time; the version is still 4522.
The clients, however are all at 4520 and failing. I opened the client that is installed on the server and tried the manual update twice, once with diagnostic logging. During the first manual update attempt, I saw it download about 20MB of update files. The second manual update, with diagnostic logging enabled, did not download files and failed very quickly. Now in the client logs, I see:
5:34am:  Update, Event:  [no message] (Most automatic updates failed a without a message.)
9:05am:  Update, Event:  Updater: compile error 0.
9:05am:  Update, Event:  Updater: retval = 0x1105, failures: 7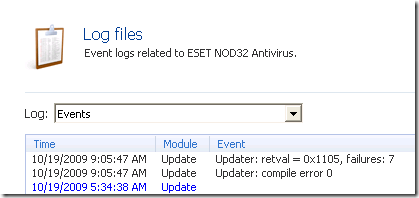 Solution
A Wilders Security Forum thread gave me the solution:
On the server, delete the contents of this folder:
C:\Documents and Settings\All Users\Application Data\ESET\ESET Remote Administrator\Server\mirror
Start ESET Remote Administrator. Go to Tools > Server Options > Updates tab and click on Update Now. This will re-load the update from the ESET server.
Start the ESET NOD32 client and update again. This time the update completes successfully.
Use the ERA to force an update on the remaining clients.
Apparently one of the files in the original download was corrupted. Re-downloading solved the problem and allowed the clients to update successfully.