Mark Berry February 24, 2016
Mom called. She had done an Internet search using Internet Explorer 11 and wound up with this in her browser: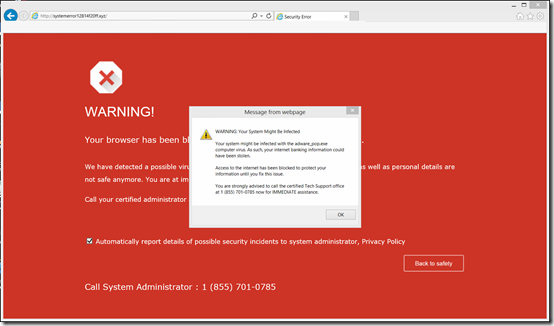 More...
Mark Berry November 19, 2014
You may have heard of a resurgence of the CyptoLocker/CryptoWall ransmomware viruses.  These make me nervous because they can actually encrypt the files on your drive, making them unreadable and unusable.  The crooks then demand that you pay $500 – $1500 to recover your files. If you see a screen like this, your computer has probably been infected:
More...
Mark Berry November 18, 2014
I want to deploy CryptoPrevent Portable using the MaxFocus RMM tool. CryptoPrevent sets up software restriction policies to keep programs from running in certain locations. However, it doesn't actually install a program or service, so it's hard to know if it's already been set up. (Thanks to Jake Paternoster for confirming that in a comment on this post.)
More...