Mark Berry November 7, 2014
I need this so often and always have to go looking for it. To list local listening ports with the owning process ID:
netstat -ano | find /i "listening"
And my go-to summary of commands from the Petri IT Knowledgebase:
More...
Mark Berry January 15, 2013
My Windows 7 desktop was showing red X's next to each mapped network drive. Clicking on the drive let me browse the files, but the Red X remained.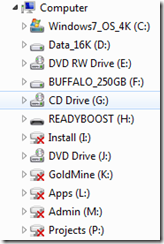 More...
Mark Berry March 24, 2012
I've been happily using my Tomato router with a guest wireless VLAN isolated from my main wired LAN. I described the setup here. Now, I want to bridge a second router using the Wireless Distribution System (WDS). Setting up a Netgear WGT624v3 as the bridged router was a challenge in itself, so I wrote that up here. But once I got bridge mode working, I was somewhat alarmed to find that the bridged router was getting IP addresses from the main (supposedly secure, wired) LAN, not from the wireless VLAN, even though it was connected wirelessly! Especially considering that bridged mode on the Netgear only works with WEP security, I definitely needed to get the bridged router off the main VLAN and onto the guest wireless VLAN.
More...
Mark Berry March 24, 2012
There are several articles and lots of confusion on this topic out there. Here is what worked for me.
First, let's clarify terms.
More...
Mark Berry November 14, 2011
I wrote recently about setting up guest wireless with the Tomato router firmware. I also needed to be able to use site-to-site OpenVPN between two routers running Tomato. I'm using a "Toastman" build that includes both VLAN and VPN functionality, but how can I use them at the same time?
More...
Mark Berry November 12, 2011
After installing a new router, I was no longer able to ping my Hyper-V server. Why not? The router sits at the edge of the network—how could it affect pinging on the local LAN?
More...
Mark Berry November 4, 2011
I've been learning Tomato router firmware. This open-source firmware can enhance a low-end wireless router with some pretty advanced features.
One of my goals was to set up my wireless for guest-only access, i.e. not connected to my internal LAN (which are all hard-wired connections). Here's one way to do that.
More...
Mark Berry June 18, 2011
A few months back, I purchased a Lenovo ThinkPad Edge running Windows 7 Professional 64-bit. From the beginning, I had frequent issues with applications crashing due to lost connections to the server.
More...