Mark Berry November 7, 2014
I need this so often and always have to go looking for it. To list local listening ports with the owning process ID:
netstat -ano | find /i "listening"
And my go-to summary of commands from the Petri IT Knowledgebase:
More...
Mark Berry January 15, 2013
My Windows 7 desktop was showing red X's next to each mapped network drive. Clicking on the drive let me browse the files, but the Red X remained.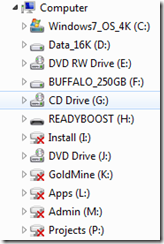 More...
Mark Berry March 24, 2012
I've been happily using my Tomato router with a guest wireless VLAN isolated from my main wired LAN. I described the setup here. Now, I want to bridge a second router using the Wireless Distribution System (WDS). Setting up a Netgear WGT624v3 as the bridged router was a challenge in itself, so I wrote that up here. But once I got bridge mode working, I was somewhat alarmed to find that the bridged router was getting IP addresses from the main (supposedly secure, wired) LAN, not from the wireless VLAN, even though it was connected wirelessly! Especially considering that bridged mode on the Netgear only works with WEP security, I definitely needed to get the bridged router off the main VLAN and onto the guest wireless VLAN.
More...