Mark Berry December 10, 2016
If you've been using the free version of Malwarebytes 2 as an on-demand anti-virus scanner and you upgrade to version 3, you may be surprised by warnings that real-time protection is turned off: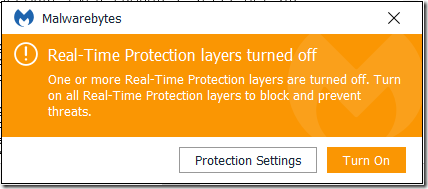 It seems that Malwarebytes has discontinued the free-only version and now always starts with a 14-day trial of the Premium version. As explained on this page, after the trial expires, the program reverts to a manual scanner: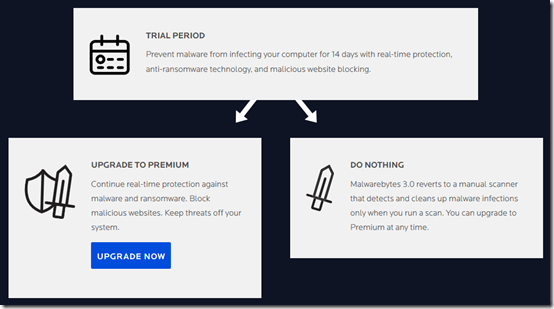 So if you want to play with the premium features like real-time protection, you can turn that on, or you can just ignore the popups for a couple weeks and you'll be back to the manual scanner.
Malwarebytes has been a great second-chance scanner and the additional features in the Premium version may well be worth the subscription fee. This unexpected trial is causing some confusion though.
More...
Mark Berry January 1, 2016
On one Windows Server 2012R2 Essentials machine, the Software Protection Service, which runs once an hour or so to verify licenses, was usually failing to start within 30 seconds, raising a Service Control Manager 7000 error in the System event log.
More...
Mark Berry August 6, 2015
I was running HitmanPro.Alert 2.6.5.77 on a domain-joined Windows 8.1 Pro laptop. When I tried to upgrade to Windows 10 (using the online update or a USB key), it repeatedly hung (crashed) with a PAGE_FAULT_IN_NONPAGED_AREA error:
More...
Mark Berry February 27, 2015
On a Windows Server 2012 R2 Essentials machine, I wanted to install .NET 3.5, but it kept failing with "Access Denied" whether I did it from the Server Manager or using a dism command.
More...
Mark Berry April 21, 2013
Tonight my mom was browsing her local utility's web site when she got a popup "Message from webpage" that Microsoft Antivirus had found critical activity A "Microsoft Security Essentials Alert" was behind that.
My smart mom put down the mouse, picked up the phone, and called me. When I connected remotely, I found this screen: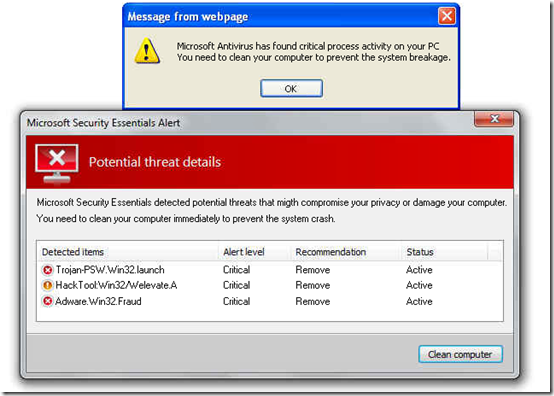 More...
Mark Berry December 21, 2010
One of the biggest threats to your computer comes when you land on a web site containing a fake anti-virus warning. These sites try to trick you into installing a program that is actually a virus. Sometimes these programs will encrypt files on your system, then charge you money to unlock them. But what does a fake anti-virus site look like, and what should you do? Here's an example.
More...
Mark Berry September 28, 2010
In the last few weeks the personal accounts of at least four of my acquaintances have been hacked. As you may have experienced, when your friend's account is hacked, you start getting emails that appear to be from them, but which actually contain some kind of spam.
More...
Mark Berry July 24, 2010
SBS does so many things that there are lots of antivirus exclusions to make. Starting from my old SBS 2003 list, and working through the extensive research in this post, I came up with the following list for my SBS 2008 exclusions.
More...