Mark Berry December 10, 2016
If you've been using the free version of Malwarebytes 2 as an on-demand anti-virus scanner and you upgrade to version 3, you may be surprised by warnings that real-time protection is turned off: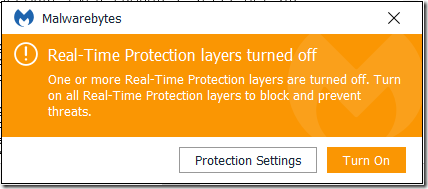 It seems that Malwarebytes has discontinued the free-only version and now always starts with a 14-day trial of the Premium version. As explained on this page, after the trial expires, the program reverts to a manual scanner: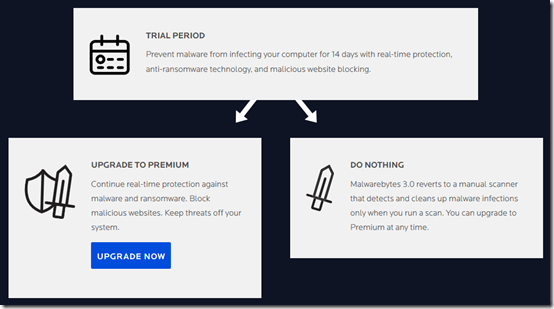 So if you want to play with the premium features like real-time protection, you can turn that on, or you can just ignore the popups for a couple weeks and you'll be back to the manual scanner.
Malwarebytes has been a great second-chance scanner and the additional features in the Premium version may well be worth the subscription fee. This unexpected trial is causing some confusion though.
More...
Mark Berry January 1, 2016
On one Windows Server 2012R2 Essentials machine, the Software Protection Service, which runs once an hour or so to verify licenses, was usually failing to start within 30 seconds, raising a Service Control Manager 7000 error in the System event log.
More...
Mark Berry August 6, 2015
I was running HitmanPro.Alert 2.6.5.77 on a domain-joined Windows 8.1 Pro laptop. When I tried to upgrade to Windows 10 (using the online update or a USB key), it repeatedly hung (crashed) with a PAGE_FAULT_IN_NONPAGED_AREA error:
More...