Mark Berry April 7, 2016
I just installed GoldMine 2015 and I must say I'm liking GoldMine Web. The ability to access GoldMine records from any browser, including a smartphone? Awesome.
I was a little lost, though, when I couldn't find a way to adjust the contact search:  it always does a "Begins with" search by Contact and Company. Can't remember the first name of that Petersen guy? Too bad: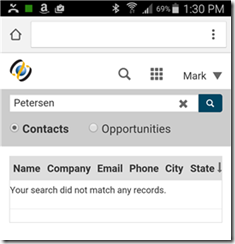 But wait: GoldMine uses standard Microsoft SQL. That means the SQL wildcard should work. The wildcard is a percent sign (%). Search for %Petersen to find contacts containing the string "Petersen":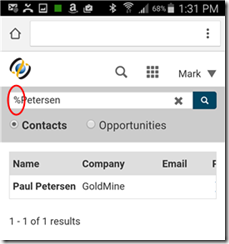 By the way, this works for partial company names too. Want to find all companies containing the word "church"? Search for %church.
More...
Mark Berry February 24, 2016
Mom called. She had done an Internet search using Internet Explorer 11 and wound up with this in her browser: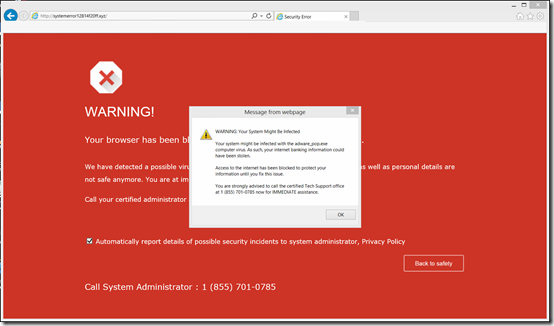 More...
Mark Berry September 29, 2015
Today I was helping a customer connect from an original Microsoft Surface tablet running Surface RT to a remote Windows 7 desktop computer. The desktop uses a custom RDP listening port (e.g. 34111).
We encountered a problem with the standard Remote Desktop Connection application. According to the customer, when she typed "remote.domain.org:34111" as the Computer Name, she got a message that the colon was not allowed. But that is required to specify the custom port, so she couldn't connect.

The workaround was to install the Remote Desktop application from the Windows Store, then run the Remote Desktop app (look for the orange icon) rather than the standard app. The UI is a bit different but it does accept the colon for specifying a port number.
More...
Mark Berry August 3, 2015
I have some Microsoft Word 5 files from 1990 that were not opening properly in Word 2013. I could see some text but not all, and the formatting was wrong.
This tip by Allen Wyatt helped me solve the problem. Unfortunately, the WDSUPCNV.EXE file is no longer available on the FTP site linked in that article. However, I went to an old computer where Word 2007 was installed, copied the file doswrd32.cnv to my current machine running Office 2013, and Word 2013 was then able to open Word 5 files.
On the old 32-bit Windows XP machine, that file was here:
\Program Files\Common Files\Microsoft Shared\Textconv
On my newer 64-bit Windows 7 machine, I put the file here:
\Program Files (x86)\Common Files\Microsoft Shared\Textconv
More...
Mark Berry December 12, 2013
Normally when I decommission a computer, I use Darik's Boot and Nuke to wipe the hard drive to Department of Defense standards. However, if the hard drive has crashed, you can't wipe it but it probably still contains recoverable data, so for security it must be destroyed. Also, shredding is probably the only safe disposal option for SSDs, which can't be wiped using standard programs.
I found a place nearby that does hard drive shredding for $9.95 while you watch.
Before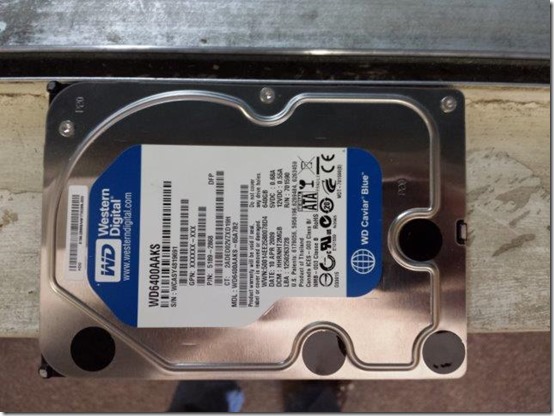 After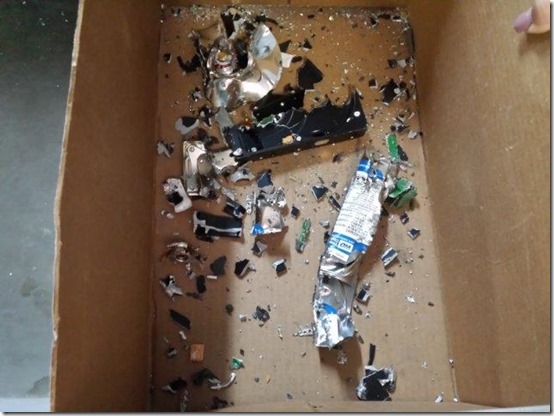 In San Diego, check out Total Secure Shredding.
More...
Mark Berry July 6, 2013
I want to raise awareness about a TurboTax bug that may affect your ability to defend yourself in the case of an IRS audit.
I use the TurboTax Supporting Details feature extensively to add information about where my numbers come from. But starting with tax year 2011, TurboTax does not print many supporting details. If you are expecting those details to be available when the IRS comes knocking, you'll be in for a surprise.
More...
Mark Berry April 15, 2013
So you've gotten rid of Microsoft Messenger and switched to Skype. But you forgot your password, and now Skype has you in an infinite loop of "Sorry that password token is not recognized." What to do?
More...
Mark Berry February 6, 2012
Today's suspicious emails supposedly come from LinkedIn. They look authentic, but the links actually take you away to bogus and potentially malicious web sites.
More...