Mark Berry April 7, 2016
I just installed GoldMine 2015 and I must say I'm liking GoldMine Web. The ability to access GoldMine records from any browser, including a smartphone? Awesome.
I was a little lost, though, when I couldn't find a way to adjust the contact search:  it always does a "Begins with" search by Contact and Company. Can't remember the first name of that Petersen guy? Too bad: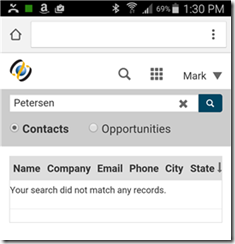 But wait: GoldMine uses standard Microsoft SQL. That means the SQL wildcard should work. The wildcard is a percent sign (%). Search for %Petersen to find contacts containing the string "Petersen":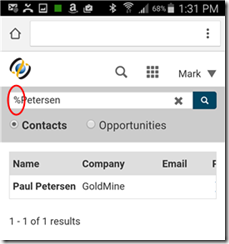 By the way, this works for partial company names too. Want to find all companies containing the word "church"? Search for %church.
More...
Mark Berry February 24, 2016
Mom called. She had done an Internet search using Internet Explorer 11 and wound up with this in her browser: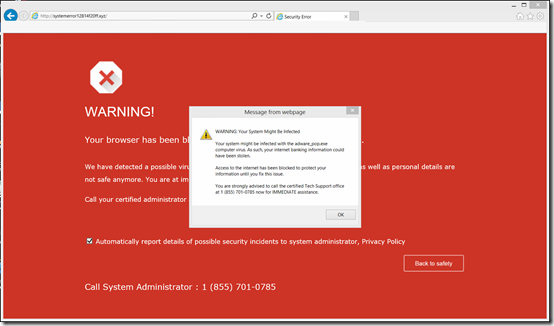 More...
Mark Berry September 29, 2015
Today I was helping a customer connect from an original Microsoft Surface tablet running Surface RT to a remote Windows 7 desktop computer. The desktop uses a custom RDP listening port (e.g. 34111).
We encountered a problem with the standard Remote Desktop Connection application. According to the customer, when she typed "remote.domain.org:34111" as the Computer Name, she got a message that the colon was not allowed. But that is required to specify the custom port, so she couldn't connect.

The workaround was to install the Remote Desktop application from the Windows Store, then run the Remote Desktop app (look for the orange icon) rather than the standard app. The UI is a bit different but it does accept the colon for specifying a port number.
More...