Mark Berry August 11, 2016
If you assist nonprofits with their I.T. needs, you may have noticed a flurry of announcements made in January about Microsoft's plans to donate "$1 billion of cloud computing resources over the next 3 years to serve the public good" (from this official blog post).
More...
Mark Berry September 19, 2015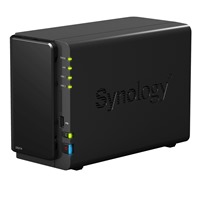 I recently had the opportunity to attend a seminar showcasing Synology's lineup of network-attached storage (NAS) devices. Their offering is truly impressive, with everything from two-disk home units up to massive enterprise devices that can expand up to 180 disks and over a petabyte (1000 terabytes) of storage.
Of course lots of companies make NAS devices. What sets Synology apart is its Disk Station Manager (DSM) software. Built on Linux, this operating system not only supports traditional file sharing across a network, it can also handle many small server functions:  local and cloud backups, email and web serving, video surveillance monitoring and storage, and even iSCSI for expanding hypervisor storage.
Windows Server is great in environments where you want centralized management and updating of Windows desktops, and it's a requirement when you run Windows server software for accounting or database applications. But in situations where the main need for a server is to share and back up files. but you can also use a few additional functions, a Synology NAS might just fit the bill.
MCB Systems is now a silver-certified Synology partner. Contact us today to discuss whether a Synology NAS can meet your server needs.
More...
Mark Berry July 8, 2013
I recently came across a letter that I wrote to a theologian friend in November 1987 about a business idea. Reading it was a fun reminder of how far technology has come. Here's an excerpt:
Have you heard yet of CD-ROM? You've seen the audio CD's that reproduce sound perfectly because they record it digitally. Well, the same pieces of plastic are being used with personal computers to store vast amounts (550-600 megabytes, or 300,000 pages) of information for quick retrieval. Of course, it can only read (ROM = Read-Only Memory), not changed or deleted. But for certain reference works, this is just fine. At the [1987 Frankfurt] Book Fair I saw, for instance, Grolier's twenty-volume Electronic Encyclopedia on one CD, and I watched it list the 12 places the name "George Washington" occurs in the entire encyclopedia in about 5 seconds. The Oxford English Dictionary is being put on CD; Bowker's Books in Print already is—updated CDs are distributed on a subscription basis. The Deutsche Bibelgesellschaft [German Bible Society] (Stuttgart) offers three German translations on one CD-ROM; there's room for 50.

The hardware needed to be able to read CDs from an IBM-compatible PC currently costs about $700 (though prices are falling). The price of the CDs themselves varies depending on the value of the work they contain and the development effort involved in getting then into database format. The encyclopedia costs $299; Books in Print Costs £ 695 for a subscription (presumably one year); the three Bibles cost 600 DM.

That's the background info. The big question; what do you think of the idea of putting theological reference works on CD-ROM? Is there a market for such a thing? One CD-ROM development engineer says he thinks the price of CD-ROM drives will come down to the price of normal diskette drives ($300 or so), making the hardware quite affordable.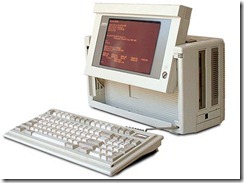 The following month, I purchased my first business computer, a Compaq Portable III Model 40. 286 processor, 640K of RAM, high-density 1.2MB 5.25" floppy, MS-DOS, and a really nice amber text-only screen. The folks at oldcomputers.net say it listed for $5799, so I guess I got a pretty good price at $4300! (That's $8934 in 2013 dollars.)
Wow, I can't wait until a CD-ROM drive only costs $300!
More...
Mark Berry March 1, 2013
A few notes as I test SkyDrive and Google Drive for storing some PDF documents.
Google Drive
The "drive" is a special folder on your PC. You can even put it on a mapped network drive. Nice if you are connected to a server.
Google Drive displays PDFs as fairly large thumbnails (shown original size here):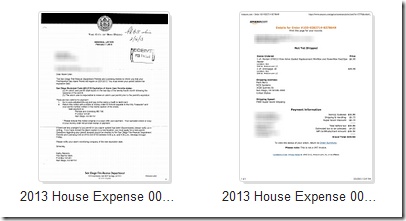 When you click to open, the PDF displays quickly in some special Google viewer.
PDF files are indexed, you can search for a word and find a file.
Google's Terms of Service are the scariest thing about the product. While they say that the user retains ownership of the user's intellectual property, the terms go on to contradict that by saying Google can do whatever they want with users' content, including publish it and display it publically:
When you upload or otherwise submit content to our Services, you give Google (and those we work with) a worldwide license to use, host, store, reproduce, modify, create derivative works (such as those resulting from translations, adaptations or other changes we make so that your content works better with our Services), communicate, publish, publicly perform, publicly display and distribute such content. [emphasis mine]
I don't see any assurance that they will not take my private PDF documents and publish them. Not sure why they would, but why claim that they have a right to?
SkyDrive
The "drive" is a special folder on your PC, but you cannot put it on a network drive.
You can optionally tell SkyDrive to give you web access to all the files on your PC. It will text, call, or email a code to your known contact points which you must enter to get access. (That's in addition to your Windows Live logon to SkyDrive). Once you're in, you can browse local drives (including your DVD drive) and mapped network drives. Pretty amazing, but maybe too much access from a browser. I'd probably turn that off and use other remote access methods if I need to get to my whole computer.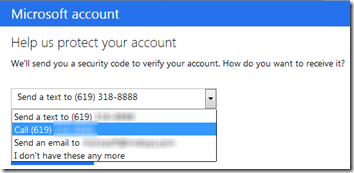 SkyDrive displays PDF files as big orange blocks with no thumbnails (original size):

When you click to open, the PDF displays in Adobe's browser plugin.
The text in PDFs is not indexed, so you can't search through them.
The Windows Live Services Agreement is much less intrusive than Google's:
3.3. What does Microsoft do with my content? When you upload your content to the services, you agree that it may be used, modified, adapted, saved, reproduced, distributed, and displayed to the extent necessary to protect you and to provide, protect and improve Microsoft products and services. … When processing your content, Microsoft takes steps to help preserve your privacy.
Microsoft claims no rights to publish, publically display, or create derivative works of user content.
Conclusion
For now, Google Drive is the superior service for storing and accessing PDF files, but their overly broad terms of service make me nervous. (By the way, the same terms apply to all Google services, so they could publish your GMail too.)
More...
Mark Berry September 5, 2011
This is pretty cool:  preyproject.com.
You install a small piece of software on your laptop or phone. If you lose the device, log in to the Prey web site and change the device's status to Missing. The software will capture a screen shot, webcam shot, geographical location (using GPS or WiFi triangulation), and a bunch of system and network info. You can even sound a loud siren through the speakers if you think the device is nearby. I tested it on a laptop and it geo-located it within one house!
Up to three devices are free; Pro plans are available. Works with Windows, Mac, and Android.
I read about Prey in the article 4 simple steps to bulletproof laptop security. Besides, theft and loss recovery, the article also describes strong passwords, fingerprint readers, and full-disk encryption, all of which I'm already using.
Contact MCB Systems if you'd like to beef up laptop security in your environment.
More...
Mark Berry January 5, 2011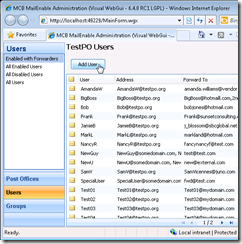 Are you using custom software to run your business? Perhaps an older Access or FoxPro application? Or maybe some Excel spreadsheets with custom macros? Ever wonder about converting that to an application that could be accessed as a web site, but still look like a local application?
Or maybe you have data that so far is only accessible to I.T. staff, and you need to open it up to end users via a simple, web-enabled interface?
MCB Systems recently had the opportunity to work on just such a project.
More...
Mark Berry September 23, 2010

A colleague referred me to this cool tool for rating web sites: www.websitegrader.com. The tool evaluates your site on the basis of of several criteria: blog, links, metadata, domain age, traffic rank, etc.
MCB Systems' site, created in-house using WordPress, rates 95 as of this writing.
How does your web site rate?
More...
Mark Berry September 3, 2010
I've recently changed my in-house PBX from Linux-based PBX in a Flash to Windows-based 3CX. One of the cool things about 3CX is the included 3CX Assistant, a call manager that runs on each user's PC. Not only does it show who is on a call, it has built-in functionality to pop up the caller's Outlook contact when a call comes in.
More...