Mark Berry August 11, 2016
If you assist nonprofits with their I.T. needs, you may have noticed a flurry of announcements made in January about Microsoft's plans to donate "$1 billion of cloud computing resources over the next 3 years to serve the public good" (from this official blog post).
More...
Mark Berry September 19, 2015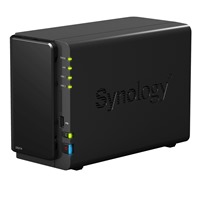 I recently had the opportunity to attend a seminar showcasing Synology's lineup of network-attached storage (NAS) devices. Their offering is truly impressive, with everything from two-disk home units up to massive enterprise devices that can expand up to 180 disks and over a petabyte (1000 terabytes) of storage.
Of course lots of companies make NAS devices. What sets Synology apart is its Disk Station Manager (DSM) software. Built on Linux, this operating system not only supports traditional file sharing across a network, it can also handle many small server functions:  local and cloud backups, email and web serving, video surveillance monitoring and storage, and even iSCSI for expanding hypervisor storage.
Windows Server is great in environments where you want centralized management and updating of Windows desktops, and it's a requirement when you run Windows server software for accounting or database applications. But in situations where the main need for a server is to share and back up files. but you can also use a few additional functions, a Synology NAS might just fit the bill.
MCB Systems is now a silver-certified Synology partner. Contact us today to discuss whether a Synology NAS can meet your server needs.
More...
Mark Berry July 8, 2013
I recently came across a letter that I wrote to a theologian friend in November 1987 about a business idea. Reading it was a fun reminder of how far technology has come. Here's an excerpt:
Have you heard yet of CD-ROM? You've seen the audio CD's that reproduce sound perfectly because they record it digitally. Well, the same pieces of plastic are being used with personal computers to store vast amounts (550-600 megabytes, or 300,000 pages) of information for quick retrieval. Of course, it can only read (ROM = Read-Only Memory), not changed or deleted. But for certain reference works, this is just fine. At the [1987 Frankfurt] Book Fair I saw, for instance, Grolier's twenty-volume Electronic Encyclopedia on one CD, and I watched it list the 12 places the name "George Washington" occurs in the entire encyclopedia in about 5 seconds. The Oxford English Dictionary is being put on CD; Bowker's Books in Print already is—updated CDs are distributed on a subscription basis. The Deutsche Bibelgesellschaft [German Bible Society] (Stuttgart) offers three German translations on one CD-ROM; there's room for 50.

The hardware needed to be able to read CDs from an IBM-compatible PC currently costs about $700 (though prices are falling). The price of the CDs themselves varies depending on the value of the work they contain and the development effort involved in getting then into database format. The encyclopedia costs $299; Books in Print Costs £ 695 for a subscription (presumably one year); the three Bibles cost 600 DM.

That's the background info. The big question; what do you think of the idea of putting theological reference works on CD-ROM? Is there a market for such a thing? One CD-ROM development engineer says he thinks the price of CD-ROM drives will come down to the price of normal diskette drives ($300 or so), making the hardware quite affordable.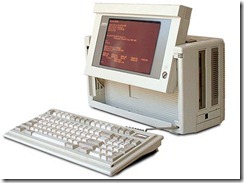 The following month, I purchased my first business computer, a Compaq Portable III Model 40. 286 processor, 640K of RAM, high-density 1.2MB 5.25" floppy, MS-DOS, and a really nice amber text-only screen. The folks at oldcomputers.net say it listed for $5799, so I guess I got a pretty good price at $4300! (That's $8934 in 2013 dollars.)
Wow, I can't wait until a CD-ROM drive only costs $300!
More...