A few notes as I test SkyDrive and Google Drive for storing some PDF documents.
Google Drive
The "drive" is a special folder on your PC. You can even put it on a mapped network drive. Nice if you are connected to a server.
Google Drive displays PDFs as fairly large thumbnails (shown original size here):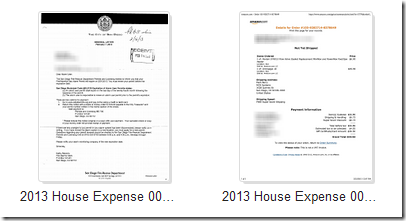 When you click to open, the PDF displays quickly in some special Google viewer.
PDF files are indexed, you can search for a word and find a file.
Google's Terms of Service are the scariest thing about the product. While they say that the user retains ownership of the user's intellectual property, the terms go on to contradict that by saying Google can do whatever they want with users' content, including publish it and display it publically:
When you upload or otherwise submit content to our Services, you give Google (and those we work with) a worldwide license to use, host, store, reproduce, modify, create derivative works (such as those resulting from translations, adaptations or other changes we make so that your content works better with our Services), communicate, publish, publicly perform, publicly display and distribute such content. [emphasis mine]
I don't see any assurance that they will not take my private PDF documents and publish them. Not sure why they would, but why claim that they have a right to?
SkyDrive
The "drive" is a special folder on your PC, but you cannot put it on a network drive.
You can optionally tell SkyDrive to give you web access to all the files on your PC. It will text, call, or email a code to your known contact points which you must enter to get access. (That's in addition to your Windows Live logon to SkyDrive). Once you're in, you can browse local drives (including your DVD drive) and mapped network drives. Pretty amazing, but maybe too much access from a browser. I'd probably turn that off and use other remote access methods if I need to get to my whole computer.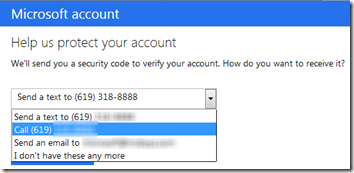 SkyDrive displays PDF files as big orange blocks with no thumbnails (original size):

When you click to open, the PDF displays in Adobe's browser plugin.
The text in PDFs is not indexed, so you can't search through them.
The Windows Live Services Agreement is much less intrusive than Google's:
3.3. What does Microsoft do with my content? When you upload your content to the services, you agree that it may be used, modified, adapted, saved, reproduced, distributed, and displayed to the extent necessary to protect you and to provide, protect and improve Microsoft products and services. … When processing your content, Microsoft takes steps to help preserve your privacy.
Microsoft claims no rights to publish, publically display, or create derivative works of user content.
Conclusion
For now, Google Drive is the superior service for storing and accessing PDF files, but their overly broad terms of service make me nervous. (By the way, the same terms apply to all Google services, so they could publish your GMail too.)