Today I arrived in my office to hear my new Synology DS-1520+ NAS beeping softly. Checking email confirmed my suspicion that a drive had failed—the storage pool was in a "degraded" state. (Be sure you have alerts working, especially if your NAS is in a location where the beeping might not be heard.) I thought I'd share some screen shots of what the failure and recovery process looks like.
The alert shows the storage pool degraded: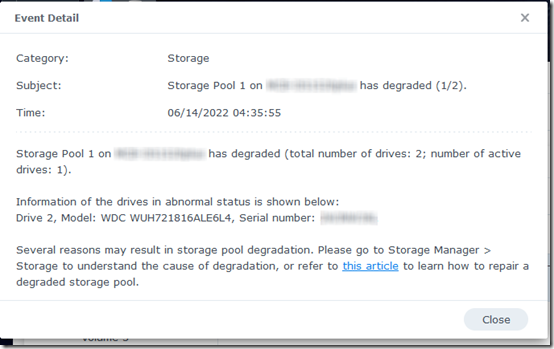 The HDD log shows "Drive plugged out." And in fact, the drive's light on the NAS is off, as if the drive wasn't even there:

I physically removed the drive. It was not warm and not spinning. I re-inserted it and its drive light came back on and turned green. Now the drive appeared in the HDD list as "Crashed":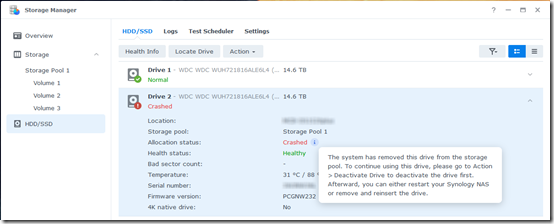 The storage pool shows the degraded status with the crashed drive: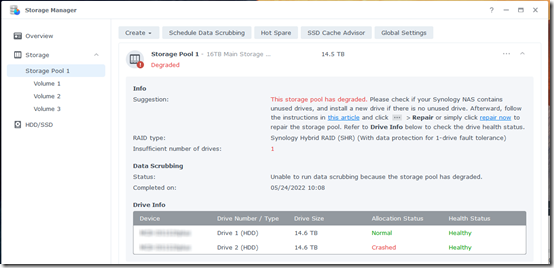 I followed the advice in that message and tried to Repair. A pop-up message advised me that insufficient drives were available:

So I guess I really do have to first go to HDD and Deactivate the drive,: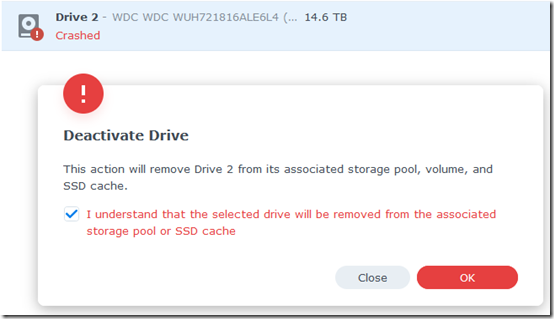 After removing the drive and re-installing it, it appears as Not Initialized: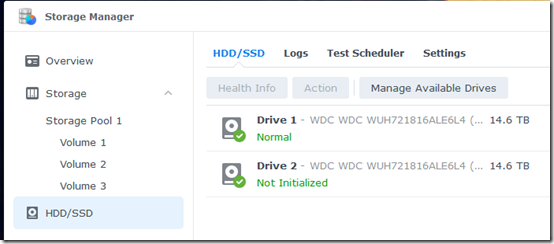 I could start the repair now, but first I want to test the drive and see if the drive itself is failing. (It could just as well be the NAS drive slot that is faulty, or a more random loose connection.) Two helpful Synology knowledge base articles:
Drive errors occurred, but I am not sure if they resulted from the drives or the drive slots. How do I check?
HDD/SSD: Drive Tests, Analytics, and Predictions
I'm following the advice in the first article, with instructions from the second article, to run an extended S.M.A.R.T. test. The system advised me that the test will take something like 32 hours for this 16TB drive: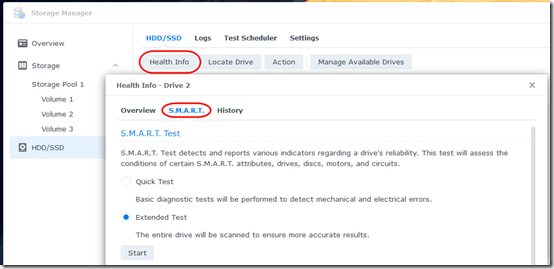 If the test passes, I'll be ready to repair the degraded storage pool. If not, I'll need to replace the drive, then repair the storage pool by re-adding the deactivated or new drive to the pool:

Synology has done a good job of detecting drive disconnection and guiding the user through the removal and repair process. I just hope that this is a one-time thing and not an indication that my almost-new hardware is failing.