In testing an Essentials Client Restore under Hyper-V, the restore kept failing. It would show the server name, prompt for the username and password, but then it would fail with these messages:
BackupProtocol: WSAConnectByNameWfailed with error code 10060
ERROR: ConnectionCompletedHandler::Completed failed, HR=0x8007003B
Here is the full WindowsServerPCRestore_Update log: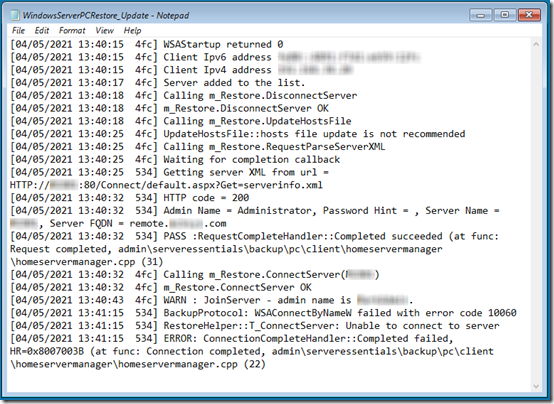 It sounded like a network connection issue, but then how was it seeing the server name? At first I was running this on a Hyper-V Virtual Network without a DHCP server. But even after setting up a DHCP server, the restore continued to fail.
Finally I realized that the Windows Server Essentials Computer Backup Service was not running on the Essentials server. Why? Because I had encrypted the drive holding the Client Computer Backups and had forgotten to unlock the drive after rebooting the server. Once I unlocked the drive, the Windows Server Essentials Computer Backup Service started and I was able to proceed with the client restore. The restore even works without DHCP.