In February 2020, I had to stop using Veeam O365 Backup version 4 because I implemented Active Directory Security Defaults, which disabled the legacy authentication that Veeam O365 still relied on.
Veeam O365 Backup version 5 no longer requires legacy authentication, though you lose a small subset of options without legacy auth. Yesterday, I upgraded to version 5.0.1.179 and configured it to use modern authentication only. I set it to back up the Entire Organization and there are only three actual mailboxes (though Veeam finds a few more; I guess they are groups).
After upgrading my repository, I ran a backup and noticed that it was 100% successful but simply skipped the primary mailbox. It only backed up 30MB and there is much more new data than that in the past 13 months.
So I deleted the old backup job and repository, created a new repository and job, and ran another backup. Still it backed up a few mailboxes but skipped the main mailbox. This time, only 84MB was backed up.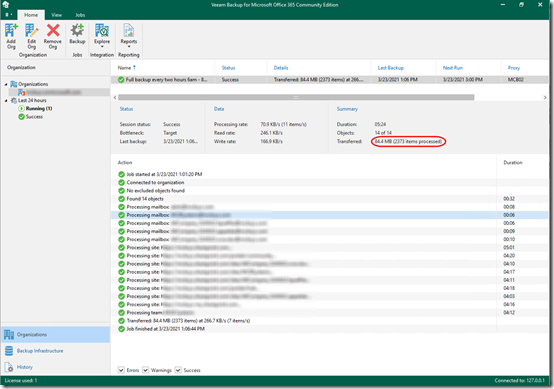 It's a bit alarming that Veeam shows 100% success but skips one user. I wondered if there was something keeping it from enumerating users in Azure Active Directory. Reviewing Azure AD for this tenant, I noticed that the user that was skipped had no User Type. Could that make a difference?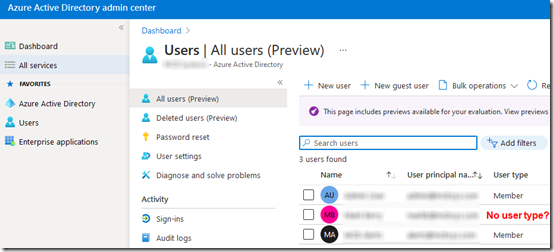 Today, I received an email notifying me that an update to version 5.0.1.207 was available. The release notes for .207 were published March 5; I don't know why .207 wasn't available from the download page yesterday.
After I applied the .207 update, the next backup immediately picked up the missing user (mailbox, OneDrive, and SharePoint). This screen shot was taken during the backup; it ultimately added 20.5GB of data. That's more like it!