I'm installing Office 2007 on a Windows 10 virtual machine in the hopes of opening some old Word 5.x files. Windows Update installed quite a few security updates, but the Microsoft Office File Validation Add-in failed with Download error 0x80240023.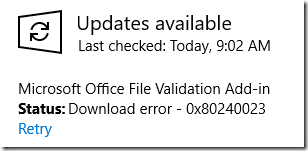 The first hit when I googled that error code was someone else with the same issue. Of the 78 replies, this one was highlighted as the answer, and worked:
Go to C:\Windows\SoftwareDistribution\Download
Find OFV.CAB and extract it. You'll have OFV.msi
Install it and hit Retry on Windows Update.

Sure enough, after the manual installation, the file is no longer offered by Windows Update.
Word 2007 is still not recognizing a Word 5.x file even though it works on another computer (an old Windows XP machine). That's a separate issue.