Windows Server Essentials 2016 sometimes reports that most or all server folders have gone missing, even though they haven't and all shares are accessible.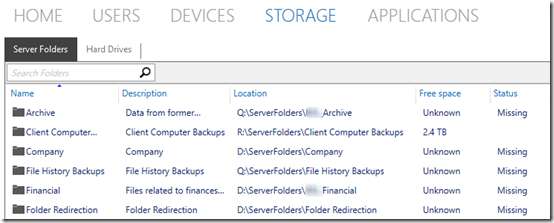 The critical warning in the Essentials Dashboard corresponds to event 1280 in the Microsoft-Windows-ServerEssentials/Admin event log:
Log Name: Microsoft-Windows-ServerEssentials/Admin
Source: Microsoft-Windows-Windows Server
Date: 2/11/2020 8:02:29 AM
Event ID: 1280
Task Category: None
Level: Error
Keywords:
User: SYSTEM
Computer: MYSERVER.internal.kbrunini.com
Description:
Critical Alert: DefaultShareFolderMissing is raised at MYSERVER. <Title> One or more pre-defined server folders are missing. <Description> Certain Server Folders related tasks may fail until the pre-defined folders are restored:
Folder Redirection
File History Backups
Users
Company.
As suggested here, the workaround is to restart the Windows Server Essentials Storage Service (WseStorageSvc).
After restarting the Essentials Dashboard, the folders should once again show as present: