Today, trying to upgrade my Windows 10 Pro machine to 1903 from a USB drive, I received this most unhelpful message: "Windows 10 Installation has failed":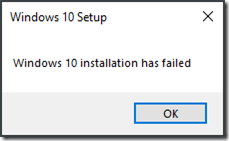 No error code, no indication where to look for log files, no "sorry," nothing.
If you get that, check this file for the error codes and messages:
C:\$WINDOWS.~BT\Sources\Panther\setuperr.log
In my case, I learned that a certain file on my newly-created USB media could not be copied. I'm re-creating the media.