According to the Microsoft Lifecycle Policy, Server 2016 Essentials should have support through January 12, 2027:

Even SBS 2011 Standard, based on Server 2008 R2 SP1, is supposed to be supported through January 14, 2020. The SharePoint 2010 SP2 component is supported through October 13, 2020.
However in the last few days, Microsoft has taken down one of the key information resources about Essentials (and SBS before it): The Windows Server Essentials and Small Business Server Blog (https://blogs.technet.microsoft.com/sbs/):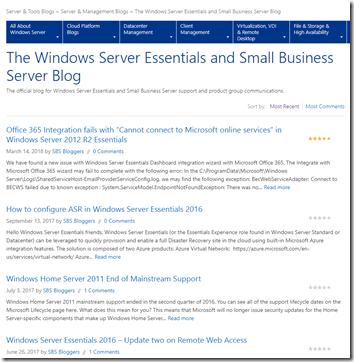 Visiting that page now gives you the message, "Oops! That page can't be found. This page has been disabled."

Why Does This Matter?
Here's an example. A couple days ago, thanks to a recent servicing stack update (I assume), I was suddenly offered SharePoint 2010 SP2 on an SBS 2011 installation. The customer doesn't use SharePoint, but it looked like a small install so I decided to let the installation proceed. After the reboot, I got this wonderful message: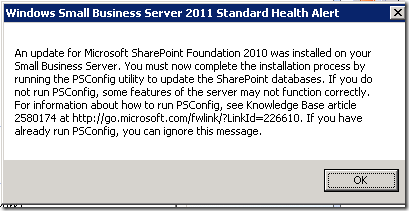 Googling that leads to this article:
"Potential Issues After Installing SharePoint Foundation 2010 Security Update"
https://blogs.technet.microsoft.com/sbs/2011/09/16/potential-issues-after-installing-sharepoint-foundation-2010-security-update/
Which says "Oops! That page can't be found."
Fortunately, the post-install steps were captured in a forum post here. KB2580174, mentioned in the message, is also available, but it doesn't include the helpful screen shots and explanations of the SBS forum post (currently still visible in the Google Cache).
The Wayback Machine is no help. It only has the top-level index; it seems none of the articles were archived.
Why Take It Down?
I realize Microsoft is abandoning the SBS and Essentials line as fast as it can, but it made promises to support these products for a specific period of time. Vendors and customers made decisions and invested money based on those promises. One of the key support resources is this blog. It costs Microsoft almost nothing to keep legacy content online, so why disable it? Maybe, hopefully, they are migrating it to a new location, but then, why take down the old version without any announcement or redirect before the new version is available?