A customer purchased a Brother MFC-8900CDW laser printer. I installed the full software for it on their Windows 10 Pro systems. Now, every few hours, the following error is logged in the Application event log:
Log Name:      Application
Source:        MsiInstaller
Event ID:      11706
Task Category: None
Level:         Error
Keywords:      Classic
Description:   Product: PowerENGAGE — Error 1706. An installation package for the product PowerENGAGE cannot be found. Try the installation again using a valid copy of the installation package 'PowerENGAGE-3.2.13.msi'.
The Issue
"Brother PowerENGAGE" was installed as part of the printer installation and has its own entry under Add or remove programs:

There is a new scheduled task that runs every six hours when the user is logged on: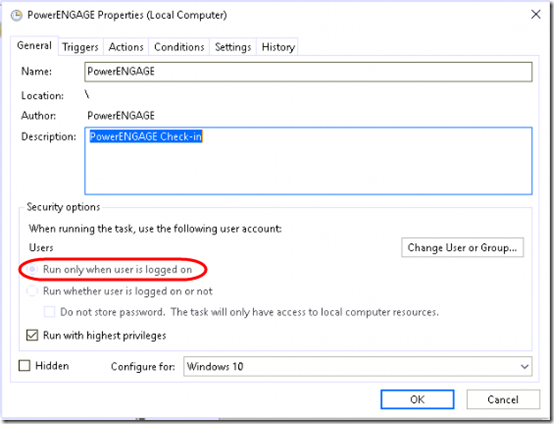 The first action of the scheduled task is to do a repair install (msiexec with /f parameter) of the PowerENGAGE program:

(msiexec parameters are documented here.)
However, following security best practices, users do not have admin privileges, so the installation fails.
PowerENGAGE
So what is PowerENGAGE and do I need it?
The Add or remove programs entry points to Aviata as the creator. The Aviata PowerENGAGE page explains that it is a suite of "in-product communication modules" so vendors can "Expand your marketable universe and start engaging with 100% of your customers." Modules include PowerREGISTER, PowerFEEDBACK, PowerSALES, and PowerSUPPORT. [As of February 3, 2021, the aviatainc.com domain is for sale. The link above now points to the August 5, 2020 version from archive.org.]
I'm not a fan of programs that run repeatedly to ask me to register, provide feedback, or buy supplies. Ironically, I probably wouldn't have noticed it if it had not been configured in such a way that it fails when a non-admin user is logged in. For now, I have disabled the scheduled task.
Update I've now heard back from upper-level Brother support. They confirm that I can uninstall PowerENGAGE from Add or remove programs. If that doesn't work, or when installing in the future, do a custom install and deselect Research and Support.