This is just cool. Because AMT vPro gives me out-of-band control of a machine, I can boot from Windows installation media, wipe a disk partition, and install Windows 10 from scratch.
In fact, in this case, I didn't have a local DVD with the installer, so I downloaded the ISO to another computer on the LAN, ran MeshCommander, set up an IDE-R session using the ISO source, and basically "pushed" the installation media over the LAN to the remote PC for the install: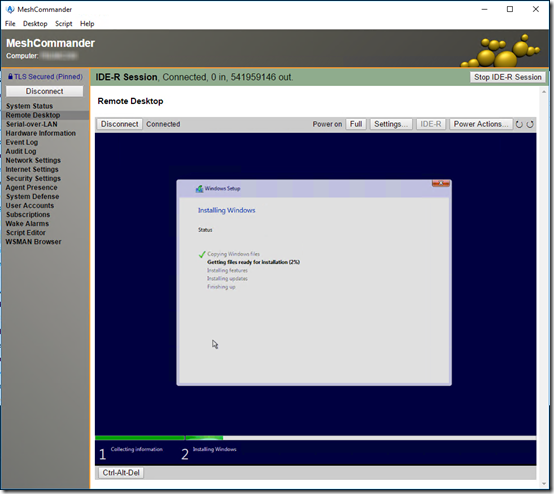 Mind you, even with a gigabit connection, this is really slow, well over an hour to get through the install. But I'm working remotely and can do lots of other stuff (like write blog articles) while I keep an eye on the installer. Soon I'll have a Win10 installation on the network and I'll be able to get back in with "normal" RDP.
Tip Before the OS install, in MeshCommander, go to System Status > Remote Desktop and change the default timeout from 3 minutes to maybe 90 minutes: