This weekend, I was glad to have Intel vPro set up on some remote client machines. Windows had lost network connection (a DHCP issue) but fortunately vPro still had the most recent IP. I was able to use MeshCommander 0.6.3 to access the vPro Remote Desktop functionality.
However, I thought I was going to have to give up when I connected Remote Desktop and saw this black screen with small gray icon and two green arrows: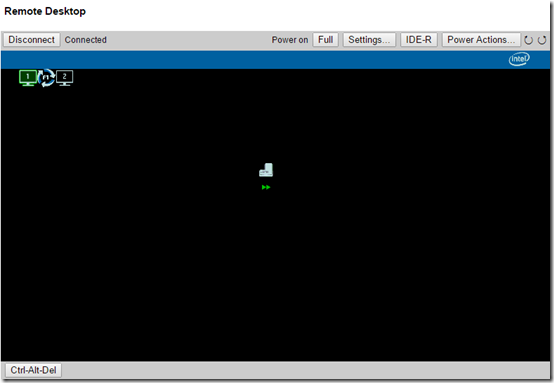 I figured out that the upper left icons indicated that I could switch between screens by pressing F1. But the screen remained black.
Then suddenly the desktop appeared. I didn't know why but was glad to get some work done.
On another machine, I was back to a black screen with a small icon and two green arrows.
Remember that MeshCommander is scaling the screen down, in some cases significantly. Finally I maximized the screen and used a magnifying glass to read the text in the icon: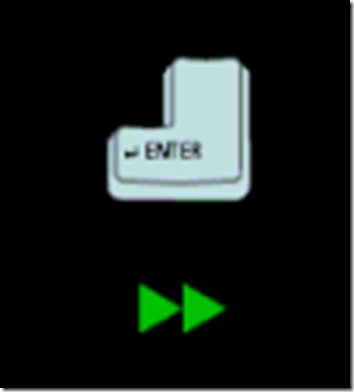 Aha! It's an Enter key. Sure enough, pressing Enter at this point causes the desktop to appear.
Suggestion for the MeshCommander developers: if the screen has gone to sleep, upon connecting with Remote Desktop, either wake it up to force the desktop to appear (after all, I wouldn't be connecting if I didn't want to see the desktop), or use a much larger icon and perhaps some text: "Press Enter to view desktop."
Meanwhile, publishing this so I'll remember to press Enter.