Recently I added a non-admin user to my computer and migrated my user profile with the excellent Profile Wizard 3.12 from ForensIT. Almost everything came over flawlessly, but one idiosyncrasy was that I could no longer add words to a my custom dictionary in Outlook or other Office programs.
The Add to Dictionary button was grayed out: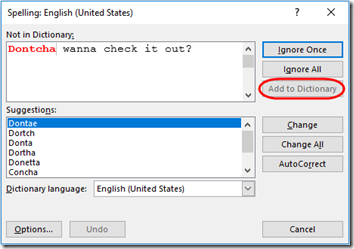 In Outlook, you can check your custom dictionaries by going to File > Options, then Mail > Spelling and Autocorrect > Proofing > Custom Dictionaries: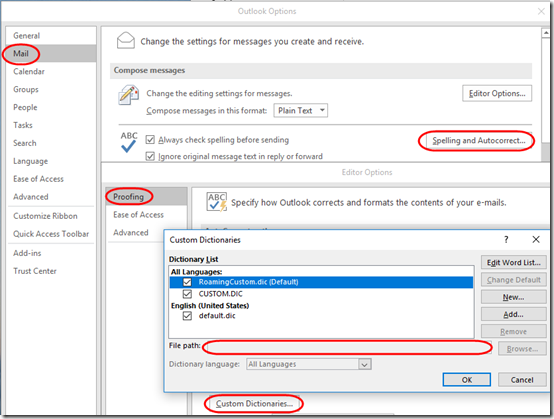 As you see, the File path is empty. But I see here that the file name for the default dictionary is RoamingCustom.dic.
Searching in Windows Explorer, I found an instance of that file under %AppData%\Office\16.0\xxxxxx\Proofing. The "xxxxxx" will vary on each computer. I could open this file in a text editor and see that it contained all my custom old dictionary words:

Suspecting a profile migration issue, I searched for RoamingCustom.dic in the registry. Here it is, in a key under
HKEY_CURRENT_USER\SOFTWARE\Microsoft\Shared Tools\Proofing Tools\1.0\Custom Dictionaries:

The path in the value pointed to my old username. Of course, the current user does not have access to the old user's files. I changed that path to point to the new user name. I still couldn't see the path in the Custom Dictionaries dialog in Outlook (which seems odd), but now the Add to Dictionary button is no longer grayed out: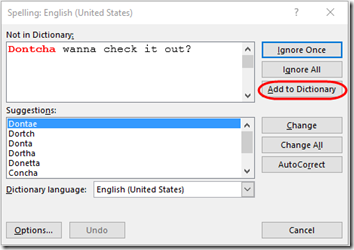 There are other solutions to this issue, e.g. using only CUSTOM.DIC and putting your words in there, but since mine were already in RoamingCustom.dic, this and since the reference to the old user in the new user's registry was obviously wrong, this seemed like the cleanest solution in my case.