I blogged in 2014 about setting up client restore service on Server 2012 R2 Essentials. I wanted to do the same thing for Server 2016 with the Essentials role. I wasn't surprised that I needed to use an updated Assessment and Deployment Kit (ADK). I was surprised when I discovered that the latest ADK, designed for Windows 10 version 1703, includes incorrectly-signed drivers, making it impossible to actually build images—or to use in Server 2016 with Essentials.
After choosing the minimal install as explained in previous article, the installed downloaded and installed 3.6GB of the ADK. I believe it was during the installation, this message appeared: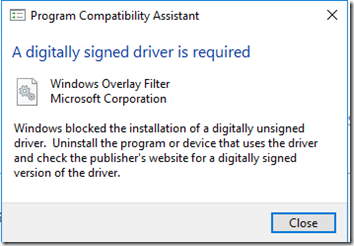 When I tried to Start the Client Restore Service installation in Essentials, it failed with this error: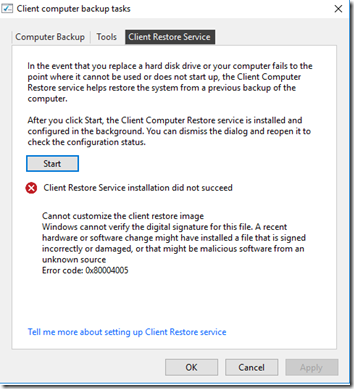 I tried repairing the ADK installation, but that didn't help.
Eventually I discovered in this thread that there is a "known issue" with Secure Boot systems because the ADK contains incorrectly-signed drivers.
This post has a workaround, which I didn't use.
Karl [MSFT] posted May 31, 2017 in the first thread that a fix is available here:
https://download.microsoft.com/download/3/E/0/3E03B03F-B9B9-43D1-873C-5F5C63301F7F/Windows build 15063 ADK Driver Update.zip
The fix? A zip file containing six driver files for you to manually copy and paste into the source directories of the ADK. There's a good readme, but really? It's like software patching ca. 1993.
The fix does work: once the drivers have been replaced, the Client Restore Service was able to build the necessary images and start successfully;