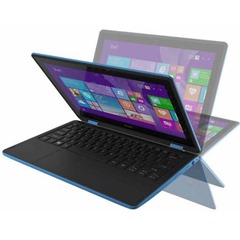 Recently I purchased an Acer Aspire R3-131T-C28S from Walmart. I wanted to see how far I could get with a $199 computer. The answer? Pretty far, but not far enough.
Specs:  2GB memory, 11.6" HD touchscreen (1366×768), 32GB "internal storage," Intel Celeron N3050 dual-core processor, Windows 8.1 Standard, 3.1 pounds.
I really like the size of this machine. It's small and light enough to transport easily, yet the keyboard has a nice feel and is well laid out.
The screen isn't great—viewing angles are limited—but it responds well to touch.
One bonus is that the machine includes a TPM chip. The machine doesn't support Connected Standby, so you can't do "device encryption" under Windows 8.1 Standard (as explained here). However after upgrading to Windows 8.1 Pro, I was able to set up normal BitLocker with no problem.
The 2GB of memory is enough for running a couple apps. It can actually be upgraded to 8GB—see this video.
The problem comes with the 32GB of "internal storage." I expected that to be a small SSD that I could upgrade, but it turns out that it is an eMMC chip soldered onto the motherboard somewhere. As the pictures in this post show, there is room for a standard SATA drive, but the connector is simply missing from the motherboard. So you're stuck with the 32GB.
That might sound okay, but it turns out that 9GB of the drive is dedicated to a recovery partition. The 20GB C: drive had about 8GB free at first (if I recall correctly), but after the Win 8.1 Pro upgrade and installing Microsoft Office 365 Pro Plus and a few smaller programs, I'm down to 3GB free: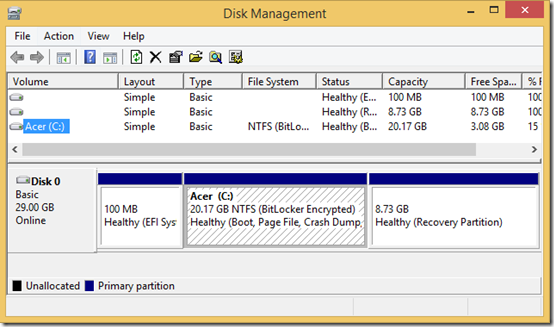 Given how much space gets eaten every time Windows updates are applied, 3GB does not seem like enough to keep this machine going for long.
Okay, I thought, I'll make a recovery media stick (requires a 16GB USB drive), then delete the recovery partition. Then I'd have about 12GB free.
Not so fast. That recovery partition is a WIMBoot partition and is required to boot the machine (forum post, WIMBoot description). It's a clever idea:  use compressed files from the recovery partition when booting the machine. But it means that the recovery partition has to stay there unless you wipe the entire drive and start from scratch with a traditional installation. However, a traditional installation would take more room than the WIMBoot partition uses.
The machine has a "Windows 10 Now" sticker on it, so upgrading is supported. Per Acer, this requires storing your old Windows installation on a USB or SD card. It seems like upgrading to Windows 10 would make the Windows 8.1 WIMBoot useless, but I didn't try it to find out.
So the only option to expand space is to add an SD card or USB storage. That would be fine for storing lots of media or documents, but it becomes a hassle, with questionable performance, to try to install programs on a secondary drive.
Bottom line, this is a neat little machine with almost enough juice to be useful. A 64GB eMMC, or at least a working SATA connector, would have put it over the line. There are versions of the R11 with 4GB of RAM, a 500GB drive, and a Pentium N3700 quad-core processor (example), but I'm not convinced they are worth twice as much.