I wanted to use the PayPal Payment Request Wizard in QuickBooks 2014 to add a payment button to an email. But when the email opened in Outlook 2010, there as a red X where the Pay Now button should have been.
Thanks to this article, I found a solution that I never would have thought of:  in Internet Explorer Tools > Internet Options > Advanced tab, allow the system to save encrypted files to disk by unchecking Do not save encrypted pages to disk: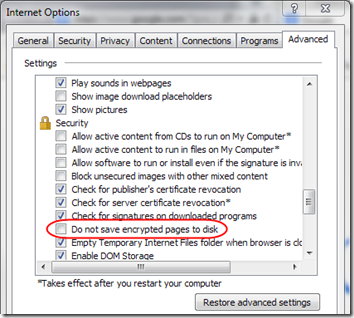 After that, I got the expected PayPal button in the email:

Oddly, once it started working, it seems to continue working even after setting the Internet Explorer option back to not saving encrypted files.