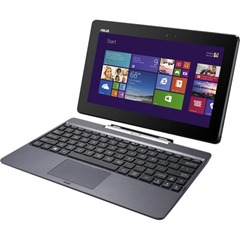 My new Asus Transformer Book T100 running Windows 8.1 (Standard, not Pro), authenticating with my Microsoft account, has Device Encryption (BitLocker) enabled. Nice! Check out these articles on HowToGeek and Ars Technica.
Recovery
If you need to access the recovery key stored in your Microsoft account, go here: https://onedrive.live.com/recoverykey.
And here's a Microsoft FAQ.
manage-bde
The Windows 8.1 (Standard) UI doesn't include any BitLocker management tools, but manage-bde is available at the command line. To view your recovery key locally, use this command:
manage-bde -protectors c: –get
If you're worried about Microsoft having a copy of your recovery key, you could save the output of that command, switch back to a local account, then delete the recovery key from OneDrive. Your local drive will stay BitLocker encrypted. There may even be away to create or replace the key using manage-bde, but I didn't research that.
Relevant TechNet articles
BitLocker Basic Deployment explains the OneDrive option. However it says I should see a BitLocker folder in my OneDrive account, which I don't.