This was a strange one. Symptoms:
In Word 2010 and Publisher 2010, clip art does not show preview images.
Cutting and pasting an image from a web page fails.
IE 11 keeps no browsing history, not even during the current session.
Trying to download a file fails to display the Open / Save choices.
Issues only affect one user on computer.
Analysis
Eventually I discovered that the Temporary Files location was not listed under the recently-installed Internet Explorer 11: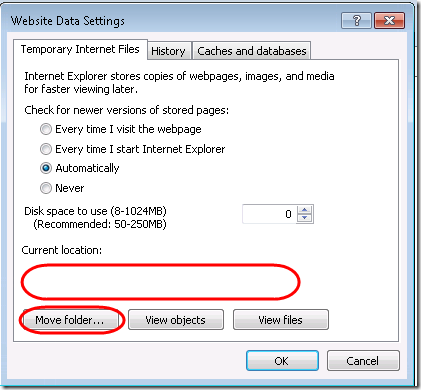 Using Move Folder to set the location back its default did not work—it was still blank after the required logoff and logon.
This blog post got me headed in the right direction. The RegEdit solution recommended at the bottom of the article did not solve the problem, but the suggestion to use the command line to look at the folder helped.
I used the attrib command to check the folder:
cd \Users\[user]\AppData\Local\Microsoft\Windows\
attrib "Temporary Internet Files"
It turns out the folder had not only System and Hidden attributes, but was also Read Only. Huh? Why? Removing the Read Only flag using attrib –r did not help.
Solution
I finally deleted the Temporary Internet Files folder, as well as the registry keys mentioned in the article. After restarting Internet Explorer, the folder was re-created and appeared in the Current location setting. And all the failing functionality listed at the beginning of this article started working again.
Possible Causes
So what happened? I can think of two possible causes:
I recently ran CCleaner under this user's logon to clean up a bunch of old files.
After that cleanup (or was it before?), I turned off roaming profiles and folder redirection in the domain, then joined the computer to a new domain, using the ForenIT User Profile Wizard to migrate settings. This worked fine for at least one other user but maybe got corrupted somehow for this user.