So you've gotten rid of Microsoft Messenger and switched to Skype. But you forgot your password, and now Skype has you in an infinite loop of "Sorry that password token is not recognized." What to do?
The Skype community is full of reports of this error. One post gave me the clue I needed:  "I am not so sure that Skype's password reset facility is capable of handling anything but passwords associated with SKYPE IDs."
Sure enough, by switching first to Sign in with … Microsoft account, I was directed to the Windows Live password reset page. Once reset there, I could log on to Skype with the Microsoft account.
In fact, I may not have forgotten my password after all. Silly me, I was using the Skype logon screen to log on to Skype instead of first going to the Microsoft logon screen.
Bottom Line
Ex-Messenger users must click click on Microsoft account before attempting to log on or reset their password.
The Story in Pictures
The screen shots below document the issue and solution.
When you start Skype, you'll probably get this blue logon screen: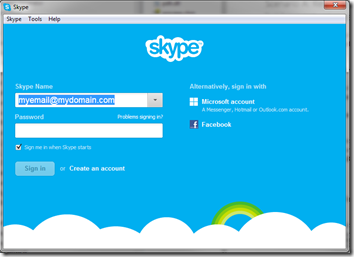 If you click Problems signing in on the screen above, you are directed to the Skype password reset page: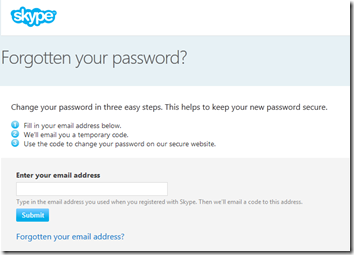 You'll get an email, but when you click on the link in the email, or even when you enter the code manually, you'll get the message "Sorry that password token is not recognized":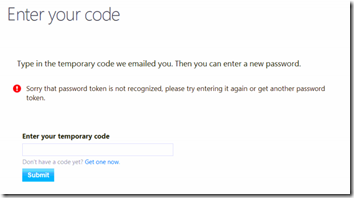 If you try enough times, you'll get another message that you won't be able to try again for another 24 hours:

The solution is to first click on Microsoft account: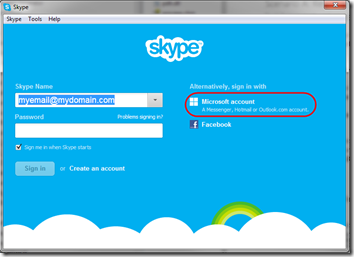 Then click on Can't access your account: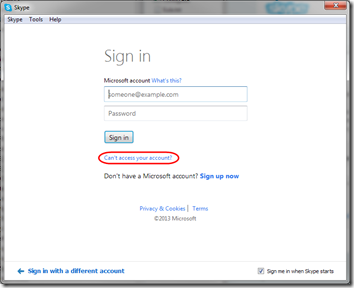 You'll get this recommendation:

Visit account.live.com/password/reset, enter your Windows Live ID (the one you have from Microsoft Messenger), and enter the annoying Captcha phrase. If it works, you'll see options for resetting your password: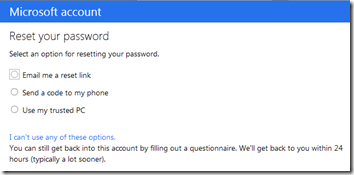 Follow the remaining prompts to log in to Windows Live in the browser. After that you should be able to log on to Skype with the Windows Live ID.
Just remember, if you're on the blue Skype logon screen, click on Microsoft account first to get to the Microsoft logon screen.
Update January, 22, 2014:
Log On Using Old Skype Account
Some comments have asked how to get back to the old Skype logon.
1. Make sure you're running the current version of Skype.
2. If you are signed in, from the Skype menu, choose Sign Out.
3. If the screen is asking for a Microsoft account, in the lower left corner, click on Sign in with a different account.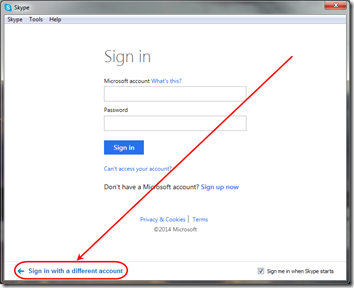 4. Click on Skype Name.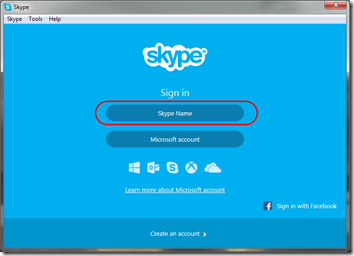 After that, you can choose your old Skype account from a drop-down and log on.