I have a 2-week-old installation of Server 2012 Essentials. Windows Server Backup runs twice per day. Every time the backup runs, I get about five of these errors in the System event log:
Log Name:      System
Source:        Microsoft-Windows-FilterManager
Event ID:      3
Level:         Error
User:          SYSTEM
Description: Filter Manager failed to attach to volume '\Device\HarddiskVolume27'.  This volume will be unavailable for filtering until a reboot.  The final status was 0xC03A001C.
Obviously "HarddiskVolume27" is not a permanent hard drive–it must be a VSS drive created for the backup. (The volume numbers are different in each event.) The errors do not stop after a reboot.
What does this error mean and how do I stop it?
Research
Microsoft partner support pointed me to this Japanese blog article. Google Translate does an okay job on the translation.
The blog tells us that the final status of 0xC03A001C means STATUS_VHD_INVALID_STATE, i.e. the VHD is in a disabled state.
The article also suggests how to identify the process that caused the error. In Event Viewer, click on the event's Details tab. Click the plus sign (+) next to System and scroll down to see the ProcessID: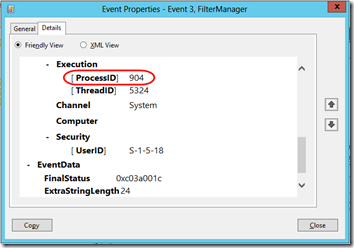 Open Task Manager to see your running proccess. In the Details tab, look for the Process ID (PID) identified above. In my case, it referred to SearchIndexer.exe, which is the Windows Search service.
I stopped the Windows Search service (and dependent services) and ran a backup. This time, I did not get any FilterManager errors.
Probable Cause
It seems that Windows Search is always watching for new hard drives to be attached to the system. As part of backing up, Windows Backup attaches new, temporary hard drives like "\Device\HarddiskVolume27", then detaches them. Windows Search can't find the drive and says you have to reboot the system.
I could set up scheduled tasks to stop and start Windows Search before and after backups. But probably I will just ignore these errors. Hopefully these confusing events will be removed in a future hotfix or service pack.