I installed GoldMine 9.2 on an SBS 2008 server with no problem. But when I tried to do a workstation install on a Windows 7 virtual machine, the installer could not see the mapped drive to the server's GoldMine installation.
After the server install, I shared the folder C:\ProgramData\GoldMine, then I mapped drive K: to that share from all machines.
Symptoms
But during the workstation install, when it asked for the location of the server's gm.ini file, it could not find it on the K: drive: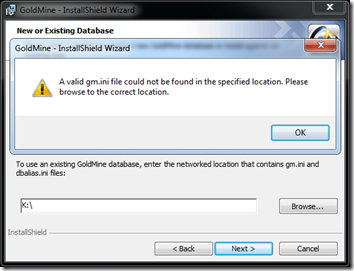 I tried browsing for the drive, but only local drives are listed. No mapped drives are shown: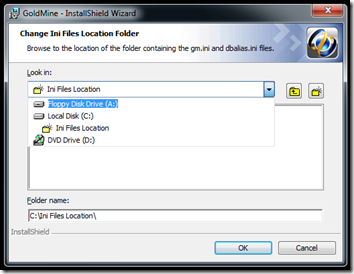 When I simply typed "K:" into the Folder name field, I got "Error 1327: Invalid Drive K:\":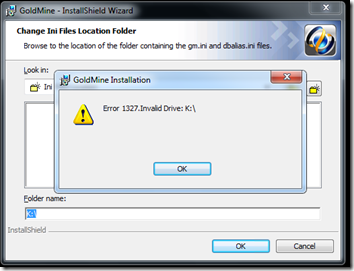 I found InstallShield document Q110636 regarding this error, but its suggestions didn't solve the problem.
Workaround
GoldMine Support suggested that I try using a UNC path instead of the mapped drive during the install:

Sure enough, this allowed the installation to proceed and complete successfully.
However, GoldMine would not start after the installation—it complained about not finding the database alias, if I recall correctly. Apparently it does not like having the UNC path in the local (workstation) gm.ini.
On the workstation install, GoldMine placed the gm.ini file in C:\Program Files\GoldMine. That path is normally not editable, but by running Notepad as an Administrator, I was able to change gm.ini to point to the mapped K: drive:
[GoldMine]
realini=K:\gm.ini
With that change, I was able to run GoldMine on the workstation and see the data on the server.