After successfully installing Exchange 2007 SP3 Rollup 5 on SBS 2008 a couple days ago, I decided to be brave and try Rollup 6 when it appeared on WSUS today.
I've heard repeatedly that it's best to download these updates and install them manually, so that's what I did. The download is here.
This will give you an .msp file. When you right-click on that file, there is no option to Run as Administrator. So instead, open a command prompt as Administrator, browse to the file's location, and type its name to start the install.
It did not seem to take as long to build the .NET assemblies as for Rollup 5. Pretty soon I was presented with this message:  "The following application are using files that need to be updated by this setup. Close these applications and then click Retry to continue the installation or Cancel to exit it."  The listed application is Windows SBS Manager.
Checking the Process Id in Task Manager, I see that this is DataCollectorSvc.exe, i.e. the Windows SBS 2008 Monitoring Data Collection Service.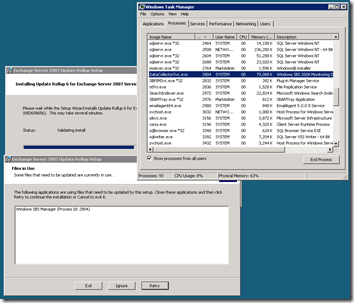 I went to services.msc, stopped that service, and clicked Retry on the install wizard. The rollup installed successfully.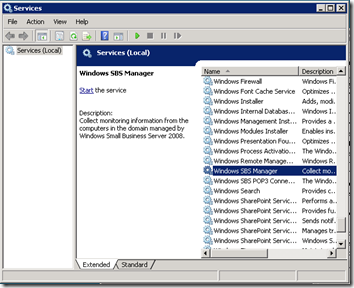 Remember to restart the Windows SBS Manager when the install completes.