I first had this issue in July 2010. SBS 2008 would attempt to run two identical backups for each one that was scheduled. The duplicate backup would fail with Microsoft-Windows-Backup event 518, "Backup started at '[date and time]' failed as another backup or recovery is in progress. Please re-run backup." But the original backup completed fine, so there was no need to re-run it.
A rep with Microsoft Partner Support spent quite a bit of time and effort trying to get to the root cause of this issue, but "no luck." I decided to live with the annoying error messages in my daily report—then one day, after a reboot, I believe, they stopped. SBS 2008 was back to running only one backup as per schedule.
Back with a Vengeance
Then earlier this month, the issue suddenly returned, but worse: SBS was now trying to run up to five identical backup jobs at a time: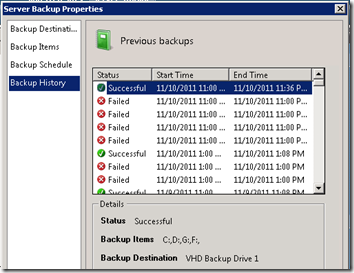 I found in this thread that at least half a dozen other users were experiencing the same issue. Fortunately, one of them had a good suggestion:  manually modify the task to prevent starting a new instance if the task is already running:
Open Task Scheduler.
Under Task Scheduler > Task Scheduler Library > Microsoft > Windows > Backup, double-click on the Microsoft-Windows-WindowsBackup task.
Click on the Settings tab.
Under If the task is already running, then the following rule applies change Run a new instance in parallel to Do not start a new instance.
Click on OK to save the changes.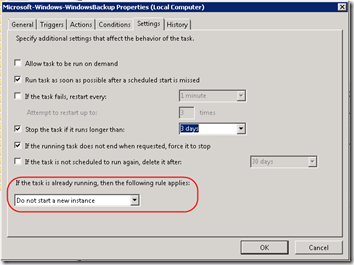 This still doesn't explain why the task tries to start multiple times in the first place. It's certainly not the "SBS way" to have to manually edit the backup task in Task Scheduler. But at least it prevents multiple instances from attempting to start. A week later, I'm back to all green on my backup history: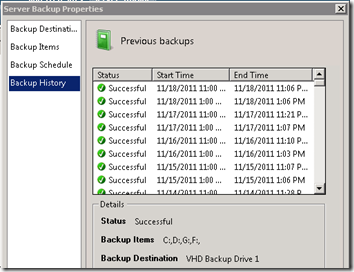 Update February 24, 2012 The multiple simultaneous backup attempts returned. When I checked the backup task, it was back to Run a new instance in parallel. The task must have been recreated when I ran the wizard in the Backup application. I'm changing the task's setting to Do not start a new instance again.
Update March 30, 2018 Encountered this same issue today on a Server 2008 R2 machine (non-SBS). I'm assuming the same solution will work.