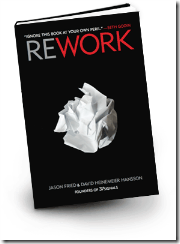 Just finished a great little book called REWORK. About 100 pages of nuggets on how to run a small business, especially a small software company. Many of the suggestions are about keeping the product and the company lean, minimizing distractions, and getting work done.
I was inspired to suggest a paragraph for the section on interruptions (below). I emailed it to the book's feedback address. A short while later I got a thank-you from Jason Fried, co-author and co-founder of 37signals. Wow, that's pretty lean when the co-founder is still reading random email feedback. Plus it's a simple example of acting like a human, letting people know you hear them. These guys might be for real.
Filter
Everyone is inundated daily with information. Emails, flyers, magazines, phone calls. Delete, delete, delete. 95% of the stuff you get won't help your business. Set up a spam filter. Unsubscribe from email lists (you can always visit a web site if you need info). Save a tree: call catalog companies and ask to be removed. Ask business telemarketers to remove your name. Keep the recycle bin next to the mailbox and dump stuff before it ever gets to your desk. Have a favorite trade magazine? Scan the table of contents. If something looks interesting, hold on to it for a few days. If it's still interesting, read it, else toss it (pack rats, file it so you can toss it later). You may wind up with a desk so clean that you have to do some real work.