If you ask Visual WebGui 6.4's installer to include documentation in the install, it looks for Microsoft Document Explorer. But Document Explorer is no longer included in Visual Studio 2010 (complaints, Microsoft's story). So where can I get Document Explorer?
A comment in this thread recommends installing Document Explorer from the Visual Studio 2008 media. But what if you are using Visual Web Developer Express? I couldn't find Document Explorer on the VWD 2008 media.
After some hunting around, I found that Commerce Server offers a "prerequisite cabinet (CAB) file" that includes Document Explorer 2005 (DExplore.exe). I downloaded one 34MB cab file, extracted DExplore.exe and installed it. After that, Visual WebGui no longer complained about the missing Document Explorer.
To find the CAB files:
Download and open the Commerce Server 2007 Quick Install Guide.
The CAB files are listed at the end of the section on installing prerequisites. Search for "The locations for the CAB files are as follows:".
Select and download the CAB file.
Extract DExplore.exe and install it.
Save the DExplore.exe installer somewhere; you never know how long these links will work!
Direct links to the English CAB files:
Server 2008 32-bit:  http://go.microsoft.com/fwlink/?linkid=63706
Server 2008 64-bit:  http://go.microsoft.com/fwlink/?linkid=63730
The 32-bit installer worked fine under Windows 7. Visual WebGui documentation is available in the Document Explorer: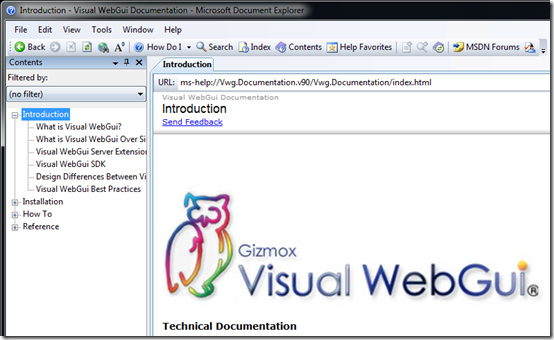 Alternatives
If all you need is Visual WebGui documentation, these alternatives may be easier:
View Visual WebGui documentation online.
Download the documentation as a .chm file:  search this page for "Visual WebGui Documentation".
Update March 5, 2015
If you need Document Explorer 2008, you can find the 32-bit English version in the MSDN Library for Visual Studio 2008 SP1. After you complete that 2.2GB download, open the .iso file and extract the 10MB installer (wcu\DExplore\DExplore.exe). (If you find a smaller package that includes Document Explorer 2008, please post a comment below.)