When you install the R11 update in QuickBooks 2010 Pro, you may find that all your custom invoices suddenly have an extra, blank box at the bottom. This is because Intuit, without your consent, reformats all your invoices so it can display a link to its Intuit Payment Network:

Here's how to turn that off.

Update April 19, 2011 A colleague tells me that after following this procedure, he could no longer Print Preview invoices, possibly because some data was positioned off the template. Reversing the procedure brought back the preview capability. Make a backup of your .QBW file and maybe export your templates before proceeding.
1. From the menu, select Edit > Preferences. Click on the Company Preferences tab and then on the Payments link in the left column. Under Invoice Payments, uncheck Show payment link at least on paper invoices: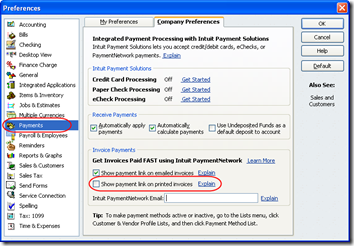 2. That keeps the link from printing, but the empty box will still appear on your invoices. So you have to open each invoice template and remove it:
a. From the menu, select Lists > Templates and highlight one template at a time. Click on the Templates button and select Edit Template from the drop-down. (You may want to Export the template first.)
b. At the bottom of the Basic Customization dialog, click on the Additional Customization button. You will see the list of fields on your template.
c. Click on the Footer tab, look at the bottom, and uncheck Intuit Payment Network: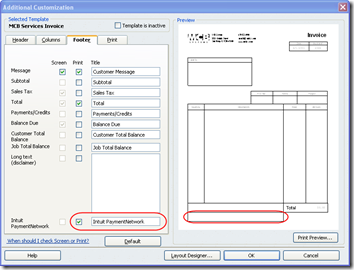 After unchecking Intuit Payment Network, the extra box at the bottom of your invoice should be gone: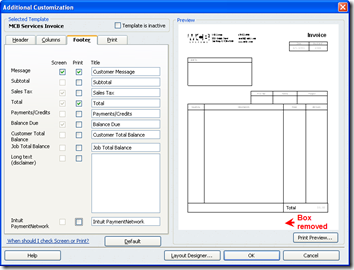 It seems that when the invoice is actually printed, the extra space at the bottom is also compressed so that the invoice once again looks like it should.