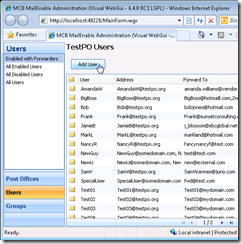 Are you using custom software to run your business? Perhaps an older Access or FoxPro application? Or maybe some Excel spreadsheets with custom macros? Ever wonder about converting that to an application that could be accessed as a web site, but still look like a local application?
Or maybe you have data that so far is only accessible to I.T. staff, and you need to open it up to end users via a simple, web-enabled interface?
MCB Systems recently had the opportunity to work on just such a project.
The Project
A small client has been using a great free email client called MailEnable for a number of years. This client uses lots of email groups, and the members of the groups change frequently.
MailEnable Standard can only be administered by logging on to the server and running the administration program—not something you want end users doing. That means that every time a new email alias was needed, or a user needed to be added or removed from a group, the client had to contact the I.T. provider to handle the change.
The Goal
The goal was simple:  empower end users to view and update email aliases and groups themselves. This gives them more direct "ownership" of their data with no waiting on I.T. turnaround, and frees up the I.T. provider from handling repetitive administrative tasks.
The Methodology
MCB Systems decided to tackle this project with an innovative methodology that simulates a "local" user interface across the web by using the Visual WebGui framework. In this approach, the software only runs on the server. An end user opens a secure web site in a browser and is able to view and edit the data using a familiar, Outlook-like user interface. A few screenshots of the end result illustrate the "look and feel" of the web-based program: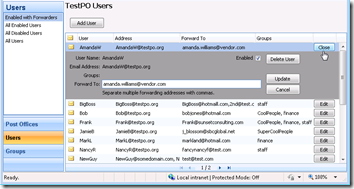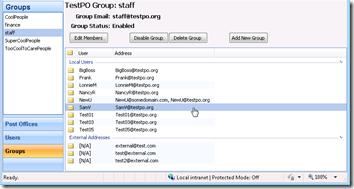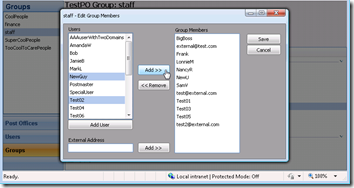 For a more detailed look at the technology, view the 3-minute demonstration video.
Benefits
What are the benefits of making a custom program available via the web?
Users can work with the same interface in the office or from home.
There is only one copy of the data, on the server. No more confusion about who has the latest version.
Data stored on the server is more secure and falls under the server's disaster recovery plan.
Depending on the application, you can host the software on your own server or "in the cloud'" on a hosted server.
And with technology like Visual WebGui, end users are able to work in a familiar interface with minimal re-training required.
Whether you have an existing application that you want to put on the web, or you have data that has so far been inaccessible to end users, MCB Systems is ready to help you design and implement the web-enabled software you need. Contact us today.