You have an old Dell server with a DRAC II remote access card. You just installed Windows 7 and you want to control the DRAC II from that desktop. You've installed the Dell Management Station and Client Web Console on the Windows 7 machine. When you run the DRAC II Client Web Console, the ActiveX component starts fine, but once you try to connect to the server, you get this message:
"Could not discover the DRAC-II card. Either IP address is wrong or physical connection tot he card (network cable) is broken. See 'Trouble shooting' section of the Help."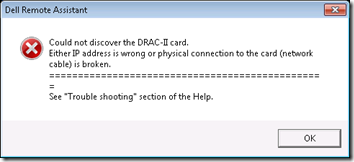 You could spend an hour fiddling with the firewall, installing SNMP, checking DCOMCNFG.
Or you could just Run as Administrator and get right past the message to the logon screen: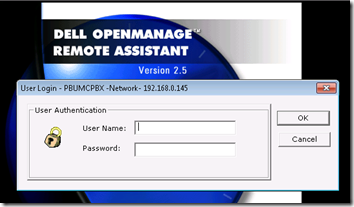 Change the Shortcut
Because I am likely to forget this by the next time I need the DRAC, I changed the shortcut to always run as Administrator: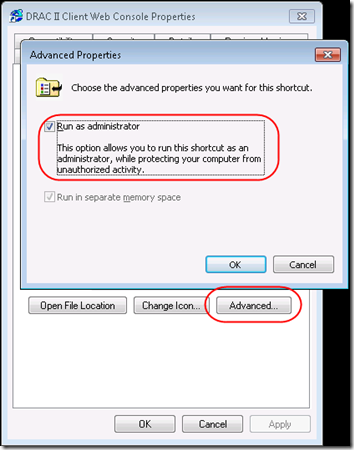 Windows XP
Note that on Windows XP, if you are not logged in with admin privileges, you can use runas in the shortcut (you may need to adjust the target path based on where you installed the client):
C:\WINDOWS\system32\runas.exe /user:Administrator "C:\Program Files\Internet Explorer\iexplore.exe C:\Program Files\Dell\SysMgt\DRAC II\Client\Web\Default.htm"